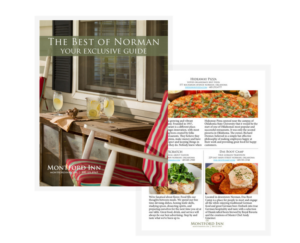 If you're planning a visit to the Norman, OK or Oklahoma City area, you should request our free guide to the area. Norman Oklahoma offers so many options for a romantic getaway, visit to the University of Oklahoma, family reunion, or just a weekend trip!
Just fill out the below form to download our free Guide to see all you can experience in Norman, OK and the surrounding area.
Our Norman, OK Vacation Guide includes great restaurants to enjoy, festivals and fairs in Norman, close outdoor adventures, live theaters and museums, and more.
Complete this form to receive the guide

Your information is never sold, never shared.