When you come to explore all that Norman has to offer — its thriving craft beer scene, showcases of Oklahoma history, and a passionate sports scene — the best place to stay is the Montford Inn.
If you're planning a stay and search "hotels in Norman Oklahoma," you'll find numerous options but a boutique inn like the Montford Inn is your best option for Norman lodging accommodations.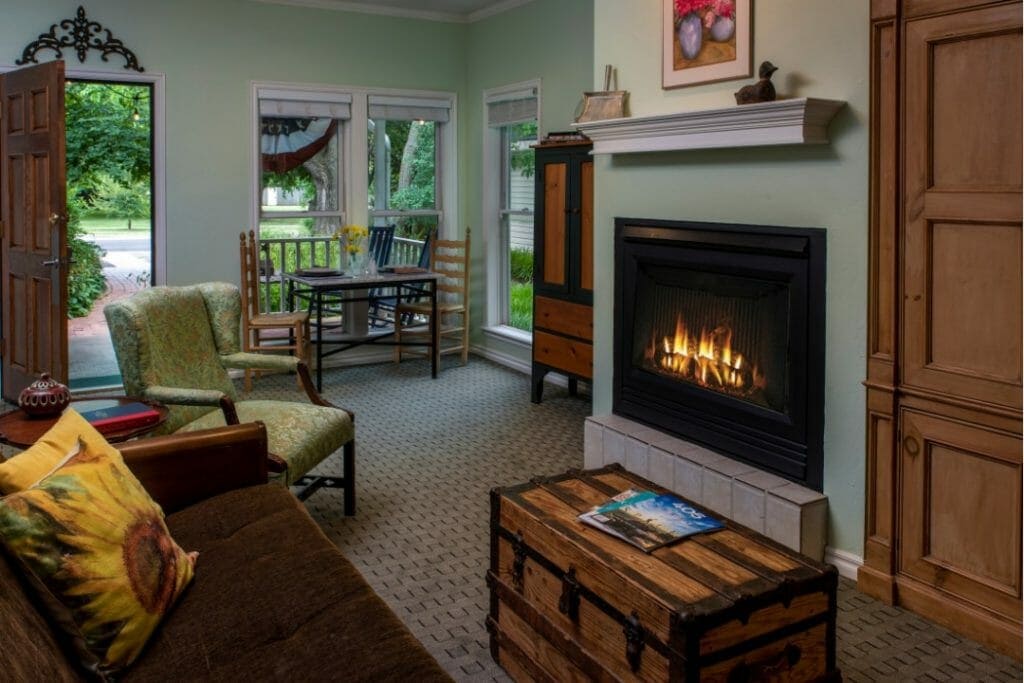 Get our free ebook guide to the best things to do in Norman and OKC. The best activities, restaurants, museums, events, views, and much more!
Click here to request the guide.
1. It's Rated the Top Bed and Breakfast in Norman
The Montford Inn was built in 1994 with the goal of creating a comforting place where visitors would feel like they were staying with a relative or trusted friend.
The Montford Inn has garnered a number of awards over the years and gained a reputation as the place to stay in Norman. Many celebrities, dignitaries, and other important people have stayed at the Montford Inn, helping to further the Inn's reputation.
So whether you're coming in for a business trip or planning a leisurely stay in Norman, make your reservations to stay at the Montford Inn. After all, there's a reason it's been consistently voted by Oklahomans as the best bed and breakfast in Norman.
2.  The Rooms and Suites are Immaculate
Whether you're looking at hotels in Norman Oklahoma or boutique inns like the Montford, you ultimately want your stay to be comfortable.
If comfort is what you seek, that's precisely what you'll find at Montford Inn. You'll feel like you're staying in a luxury hotel with all the comforts and warmth you feel when you stay at a friend's house.
When you book a stay at the Montford Inn, you have several options for what room you can stay in. All these rooms offer personal touches and uniqueness that will make your stay both comfortable and memorable.
Although my husband & I were only in town for two nights, we had a lovely stay in the Hearthstone room. One of my favorite things about bed and breakfasts is that you feel as though you are a guest in someone's home. It was evident there was much thought put into the decor as we were surrounded by beautiful, seemingly very personal items throughout the inn. The innkeepers were warm and friendly, the amenities were outstanding (especially those chocolate chip cookies!), and the bed was quite comfortable. Next time we come to Norman we will certaintly return!
– Michelle B. 
Montford Inn's rooms include:
Legends of the Game: Created as an homage to America's pastime, this room doesn't necessarily feel like a sports room. A fireplace and old-time photos add perfect touches to this room.
Alma Mater: Boomer Sooner! Whether you're a long-time University of Oklahoma alum or a recent grad, you'll love this room. Visitors here can enjoy college memorabilia to look at and can relax with amenities like a private outdoor hot tub.
MorningSong: This corner, first-floor room is the perfect place to welcome the day. Visitors can enjoy time by a fireplace, relax under a rainfall shower or bask in the warm sunlight that greets visitors in the morning.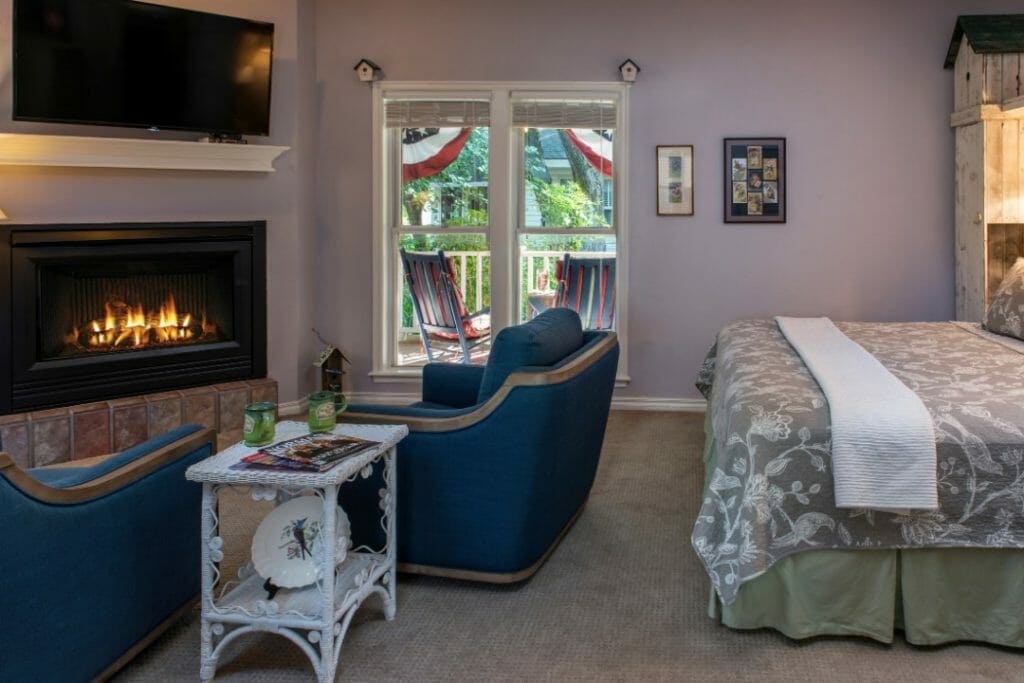 3. Montford Inn Also Offers Cottage Suites
The Montford Inn's themed rooms make each visitor who stays there feel comfortable and special. But if you're looking for an even more unique touch of luxury, consider staying in one of the Inn's cottage suites.
These cottages offer luxury, comfort, and great amenities that will make your stay a memorable one.
Some of Montford's Inn's cottage suites include:
Garden Gate: This three-room suite offers a fireplace, a whirlpool, and a screened-in back porch. After a sleep on a comfortable bed, visitors can enjoy fresh breakfast delivered right to their door.
Hidden Hollow: This suite offers relaxation in spades from access to walking paths, a porch swing, and even its rich wood floors. The suite also features a fireplace, a heart-shaped whirlpool tub, and a full entertainment center.
Scissortail: This cottage is the perfect spot to unwind whether you want to relax in front of the fireplace or enjoy the view from the suite's porch while sitting in rocking chairs. If peace is what you're looking for, you'll find it here and it will enhance your stay.
4. Montford Inn Offers Plenty of Amenities
With 9 rooms in its main house and 6 different cottages, Montford Inn offers its visitors plenty of options.
In addition to so many room options, the Inn offers many amenities designed to offer comfort. Montford's standard amenities include private bathrooms in each suite, fireplaces, Wi-Fi, fireplaces, and cable TV and DVD players.
If you book a private cottage, you'll find even more amenities including two TVs, two fireplaces, a screened-in back porch, a walk-in shower, a whirlpool path, and a full entertainment center.
Select cottage rooms also include private hot tubs, canopied beds, walk-in showers, and more.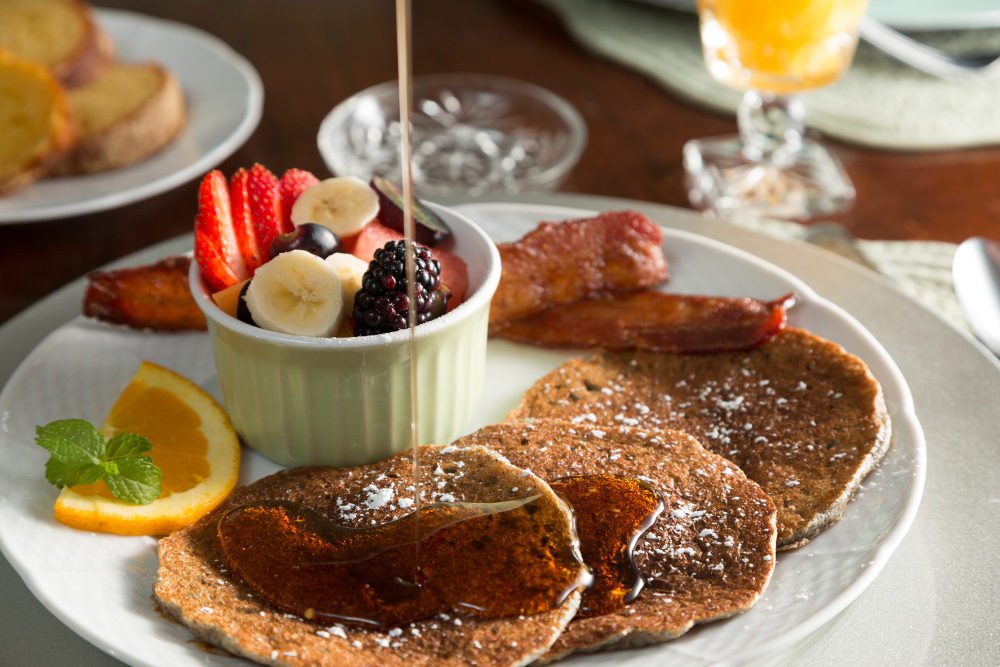 5. You'll Enjoy a Fresh Breakfast Every Morning
Norman has a lot of great restaurants that are definitely worth visiting for lunch and dinner. But when it comes to breakfast, the Montford Inn has you covered!
Every morning, guests at the Montford Inn will be greeted by the sweet smell of fresh coffee. But the deliciousness doesn't stop there! The Inn serves fresh fruit, breakfast dishes cooked with fresh ingredients, and its famous Tonhawa smoothies.
If you're looking for a mid-afternoon pick-me-up, you're in luck. During the afternoon, guests can enjoy refreshing lemonade, a soft drink, a glass of wine, cookies, and other tasty treats.
The inn is located in a quiet neighborhood. They have rooms in the inn and cottages to choose from. We reserved a cottage. Which was nicely equipped. They even put Cokes in the fridge. A small bottle of wine and cookies. I ordered a charcuterie board for our snacks. We opted to have breakfast delivered the next morning. They took very good care of us. It was very peaceful, exactly what we needed.
– Brandy K.
6. You Can't Beat the Awesome Location
There are numerous hotels in Norman and numerous hotels in Oklahoma City. But if you're planning a trip to Norman, you can't beat the location if you make a reservation at the Montford Inn.
The Montford Inn is located in Norman's historic downtown area, which means visitors are just a hop, skip, and a jump away from the University of Oklahoma and so many other sites and restaurants.
If you're in town for an Oklahoma football game in the fall, for example, the football stadium is less than two miles from the Inn.
So on a perfect fall day, you can walk down Elm Ave, greet throngs of excited Oklahoma fans, and walk right to the stadium. Along the way, there are lots of great restaurants you can stop at for a great meal before the game.
We loved our stay at the Montford Inn. My husband and I, and my mother flew in from Georgia to visit family and wanted to stay somewhere special. The Montford Inn did not disappoint. My Mom loved her room, as did we. The hosts were wonderful. We especially enjoyed the delicious breakfasts every morning. The location near OU and shops was convenient. Would definitely recommend to anyone looking for a great B&B in the area!
– Rebecca C.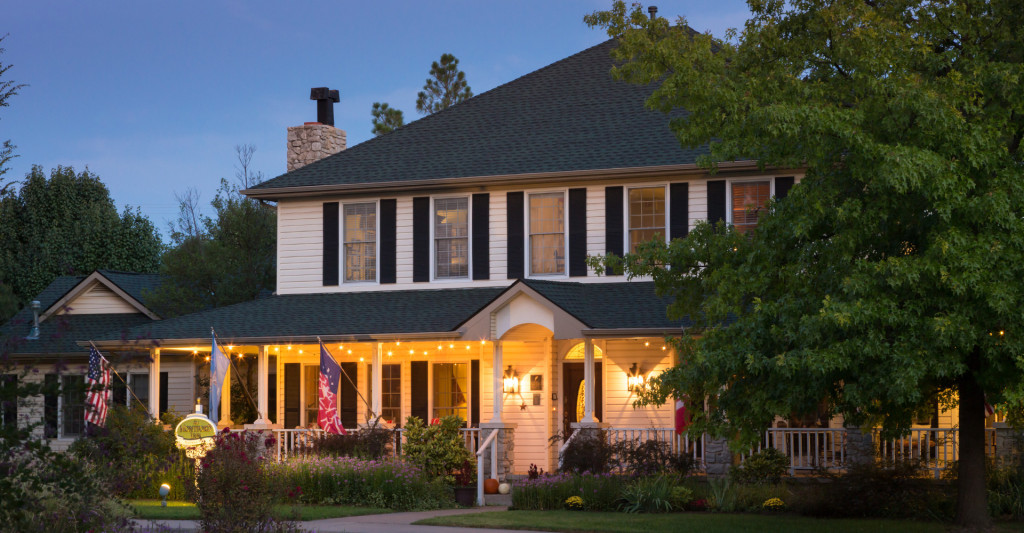 Book Your Boutique Inn Stay at Montford Inn Today
With top-of-the-line service, incredible amenities, a great location and so much more, Montford Inn is the perfect place to stay if you're planning a trip to Norman.
Whether you're seeking a unique and memorable experience, great comfort on a vacation, or a place that's close to where the action is, Montford Inn has you covered. The Inn goes the extra mile to make sure visitors are comfortable and offers fresh breakfasts, unique furnishings and so much more that make it an easy choice over a chain hotel in Norman.
Get our free ebook guide to the best things to do in Norman and OKC. The best activities, restaurants, museums, events, views, and much more!
Click here to request the guide.