Planning a getaway to Norman OK?
If you're planning a visit to the Norman, OK or Oklahoma City area, you should request our free guide to the area.
Norman Oklahoma offers so many options for a romantic getaway, a visit to the University of Oklahoma, a family reunion, or just a weekend trip!
The 20+ page guide includes:
The best restaurants to enjoy
Festivals and fairs in Norman
Live theaters and museums
Attractions in OKC
And much more!
Simply enter your name and email below and our guide to the best of Norman OK will be delivered right to your inbox.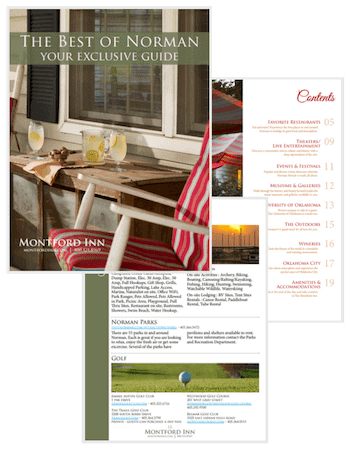 By adding your email address, you'll be added to our newsletter list. You'll receive about two emails from us a month, including content to help you plan your trip to Norman Oklahoma, and information about the inn, including special offers. We respect that you have invited us into your inbox, and we won't share your information with anyone else, ever.