If you're looking for a little rest and recuperation time, a little romantic getaway time, a little recharge from the daily grind time, we know that where you choose to stay absolutely matters. You can choose something completely on the beaten path, copy and paste, corporate.
Or you can choose to go with a bed and breakfast Oklahoma experience, where guests are treated with hospitality and care, rooms and unique and cozy, and your experience will be unique and special.
But you don't want just any bed and breakfast. You want the best bed and breakfast Oklahoma has to offer. And we've got you covered!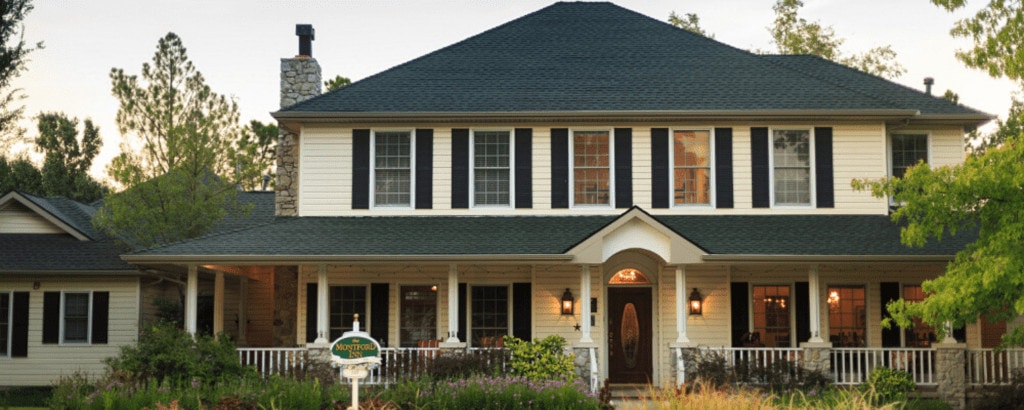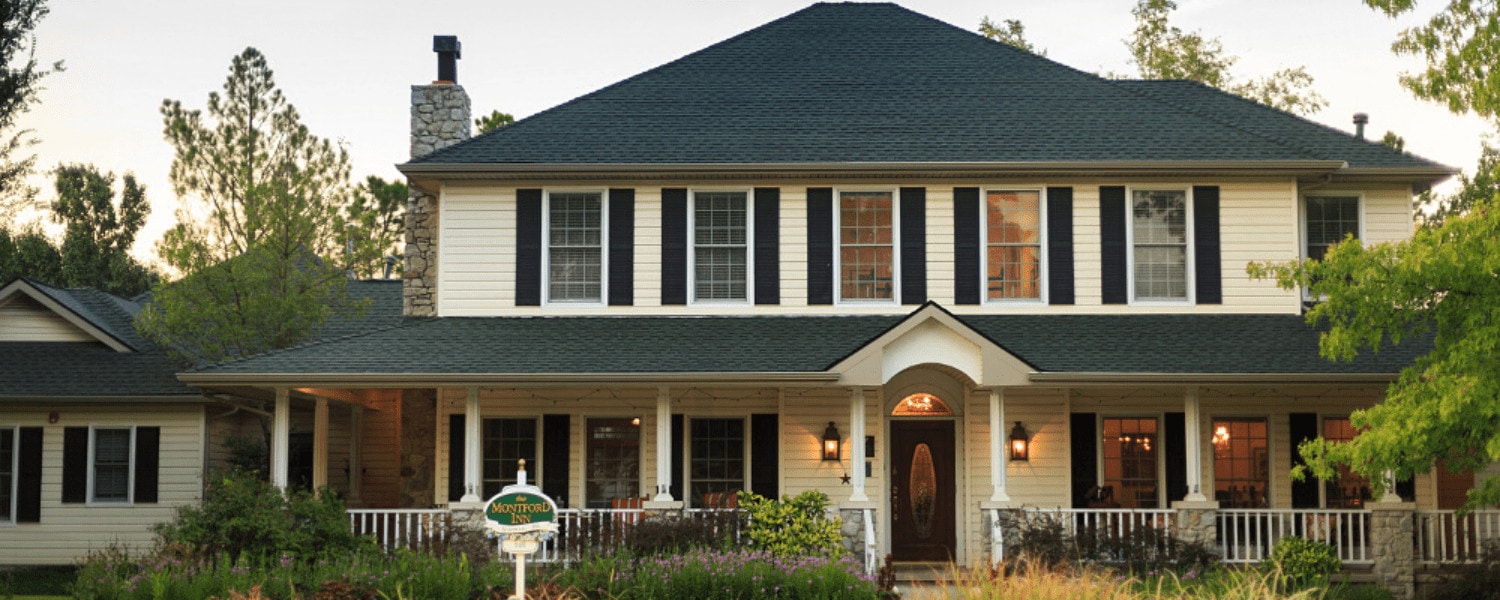 Best Oklahoma City Bed and Breakfast in Norman: Montford Inn
Located in Norman, OK, within walking distance of the University of Oklahoma campus, and just a short drive from the heart of downtown Oklahoma City, you'll find the Montford Inn bed & breakfast. Staying at the Montford Inn is a truly special Oklahoma bed and breakfast experience.
With 9 rooms in the main house and 6 private cottages, the Montford Inn is a true bed and breakfast Oklahoma experience. Montford was created expressly as a bed and breakfast, so you'll appreciate the amenities and conveniences of this well-appointed Oklahoma City area bed and breakfast.
The main house of this Norman OK bed and breakfast – just blocks from historic downtown – takes special care of room placements as well as entrances and exits. Or you can choose to stay in an adjacent cozy cottage with private bathrooms, which offer many great features, including gourmet breakfast delivered to your door each morning!
Montford Inn's Oklahoma bed and breakfast inn guests are greeted each morning by the scent of freshly brewed coffee. Fresh fruit and the famous Tonhawa Smoothies are also available, as well as delectable breakfast dishes – like french toast and fresh fruit – prepared with only the finest ingredients, includingx fresh herbs from the garden.
The special touches and care for guests, as well as being one of only two Select Registry bed and breakfast OKC properties in Oklahoma, makes Montford Inn one of the best bed and breakfasts in Oklahoma.
Here's what a recent guest had to say:
The Montford Inn was a delight and special treat for my husband and I! It has been over 10 years since we stayed at a bed and breakfast and we left wondering why we hadn't done it sooner! So much better than an Airbnb or hotel!

Freshly baked cookies in our room. Free wine chilled and available to any guest. Delicious breakfast! Coffee and snack bar all day.

Our room had a huge Whirlpool tub. I enjoyed the books that were available to read and my husband and I enjoyed selecting videos from the Inn's library and watching them in our room on the DVD player provided. Downtown was a block away. Delicious food and fun shopping.

It was like staying at grandma's house! You should definitely choose this Bed and Breakfast to stay at! – J. Davis
Whether you're looking for a suite with king size beds or a gas fireplace, the intimate accommodations at this bed and breakfast Norman Oklahoma offers the perfect getaway in Oklahoma for anyone looking for romance or a quiet escape from everyday life!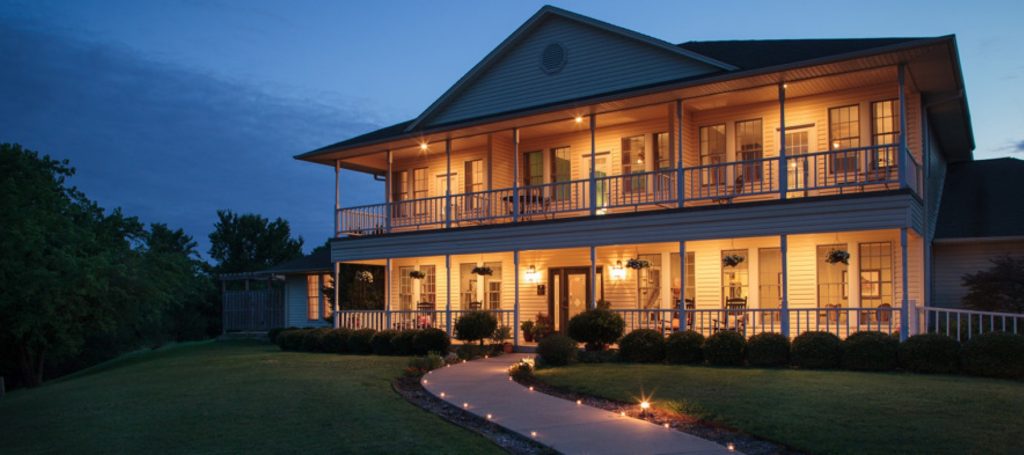 Best Oklahoma Bed and Breakfast in Ardmore: Shiloh Morning Inn
Located in Ardmore, Ok, the Shiloh Morning Inn is located on 73 beautiful country acres and is an easy drive from Lawton, OKC, and even Dallas!
This inn includes 5 rooms in the main house as well as 4 separate and secluded cottages, each with a whirlpool tub or private hot tub. A 3-course breakfast is served each morning in the main dining room and Friday through Monday evenings, dinner is available to guests with a prior reservation.
This inn is also a member of Select Registry and one of the best Oklahoma bed and breakfasts.
Here's what a recent guest had to say:
When you think of Ardmore, Ok you think farms and a small town, which in truth it is. But this place is a gem among the surroundings. Off the beaten path to a luxurious room or cottage.

Dave and Jessica are wonderful Inn hosts. Rooms are spacious and comfortable and impeccable. -TripAdvisor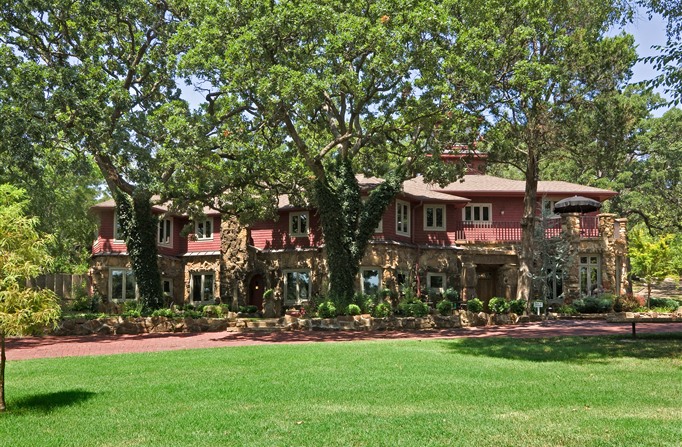 Best Tulsa Bed and Breakfast Oklahoma: Cedar Rock Inn
Located in Tulsa, Cedar Rock Inn offers 6 signature suites in the main house as well as home away rentals of 3 houses on the property. Each of the signature suites includes a gourmet 3-course breakfast (and for the sweet tooth, a bottomless jar of chocolate chip cookies!).
Special features of this inn include its Silo Event Center as well as various spa services. The guest ratings and special features make this one of the best bed and breakfasts in Oklahoma.
Here's what a recent guest had to say:
Stayed and the Cedar Rock Inn, it was absolutely amazing. I cannot say enough wonderful things about the staff, they were truly amazing and made our wedding so special, we will never forget.

The staff and management catered to all our requests, the food for the wedding was amazing! The staff at the Cedar Rock Inn was amazing the breakfast there was awesome as well! – TripAdvisor
Check availability and book your bed and breakfast Oklahoma romantic getaway today!