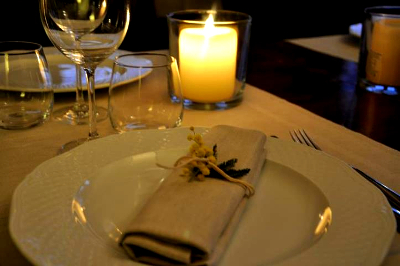 Picture a romantic night out on the town with your other half. From what you're wearing, to what you're eating, and everything in between, it's the little extras that take the night from good to great, from lovely to absolutely romantic, from memorable to unforgettable.
We know how important it is for couples to have a romantic night out on the town. Here are four of our favorite romantic restaurants in Norman OK to help with planning a night you'll never forget.
Get our free ebook guide to the best things to do in Norman and OKC. The best activities, restaurants, museums, events, views, and much more!
Click here to request the guide.
4 Romantic Restaurants in Norman OK
1. Legend's – Legend's has been one of the most romantic restaurants in Norman, OK since the 1970's. Legend's is a stunning, intimate, casually up-scale, family owned restaurant. And if your romantic night out is for your anniversary, be sure to call ahead to Legend's, where your table will get a little extra TLC – a white table-cloth, an anniversary card, and two free desserts (Call ahead to let them know). You can even have flowers delivered right to your table. Legend's doesn't just provide delicious food – there is also a live musician playing piano for your added dining pleasure, just call ahead to verify times.
2. Benvenuti's Ristorante – Benvenuti's offers old-world Italian food with a new-world twist – a seasonal dining experience that is sure to tantalize your taste buds. Italian food is often thought of as one of the most romantic foods in the world (remember the famous scene in The Lady and The Tramp?) and is a perfect way to spend an evening with your sweetie.
3. blu – Blu is a fun hidden-gem of a restaurant in Norman. Blu offers hand-crafted beers and monthly wine tastings. Sophisticated pub-grub and a brick-walled interior offer a fun and trendy experience. As one commenter said on UrbanSpoon -"the ambiance made me fall in love all over again."
4. Scratch – Scratch is carving out a new dining and drinking niche in Norman, OK. As the name implies the meals and cocktails are made from scratch and in-house. The energy and the ambiance make for a fun experience from appetizer to dessert. If you're a foodie, this place is a must-eat.
Of course, as we said before, it's the little things that totally set a romantic evening apart. So after you choose the restaurant that's just right for you and your partner, you'll want to start thinking about the little-something-extras. We can't help you with what to wear or what kind of flowers to send, but we can help take the night from delightful to downright heavenly.
What about a night away from it all? Whether you are a local, or coming in from out-of-town, nothing tops off an evening of romance quite like a little getaway. And the Montford Inn and Cottages has you covered.
You can choose from any of our ten cozy and relaxing rooms, all with in-room fireplaces for some extra romance.
Or to kick the romance up a notch, choose one of our six private cottages. All have fireplaces, whirlpool tubs, screened-in porches, and the cherry on top – a delicious gourmet breakfast delivered right to your door in the morning for a little breakfast-in-bed.
We hope your romantic night in Norman, OK will be just what you need to add a little spring to the step of your relationship. And we look forward to helping you add the little something extra that you're looking for.
Get our free ebook guide to the best things to do in Norman and OKC. The best activities, restaurants, museums, events, views, and much more!
Click here to request the guide.
We invite you to check out our availability page to start planning your night of romance.
Photo courtesy Salvadonica.