Romantic evenings out on the town. That little black dress. The bright red lipstick. The dapper suit. Flirting, touching, gazing into one another's eyes. Just picture the white table cloth, the candlelight, and the perfect plate of food sitting right in front of you.
Well, where do you need to go to make this dream a reality?
We want to help by giving you 12 of the most romantic restaurants in Oklahoma City to think about as you picture then plan that perfect romantic dinner out.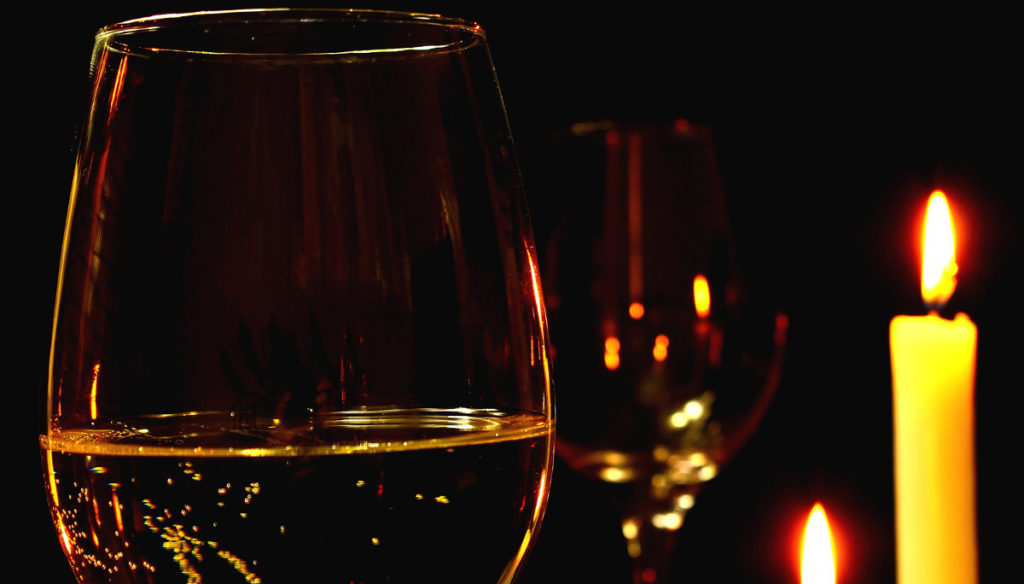 12 of the Best Romantic Restaurants in Oklahoma City
The Hutch
The Hutch has long been considered one of the most upscale romantic restaurants in OKC. The ever-changing menu offers both seasonal cuisine and best of local and regional specialties.
Chef Kurt Fleischfresser is an award-winning chef who is noted for his work of culinary excellence working with local and slow foods. The restaurant also has a unique chef training and guest-chef program, offering its patrons the opportunity to experience new food creations from graduates and well-known chefs alike.
While the menu is delicious and always changing, the staff is great about pairing wines with the dishes for optimal flavor of each course.
From The Hutch's rich history to its incredible wine selection, you are sure to find something to love at this OKC romantic restaurant.
Castle Falls
Castle Falls, established in 1945, is considered to be one of the 100 most romantic restaurants in the US and one of the top 5 romantic spots in Oklahoma City. This gem is a can't-miss in Oklahoma City if you're looking for the height of romance.
The menu changes weekly with specials from the chef. You can check out the ever-changing menu before you make your reservations.
Castle Falls offers many different dining opportunities including indoor and outdoor options, private and semi-private options. We encourage you to check out the website to make the choice that's right for you and your love.
From the beautiful architecture to the special engagement and anniversary packages, you won't want to miss dining at Castle Falls.
Red Primesteak
Housed in the 1911 Buick Building, Red Primesteak boasts unprecedented style in OKC. 18′ ceilings, skylights, and sheer volume of space establish spectacular urban beauty and drama.
There are a variety of private dining options including enclosed booths, eating above the original Buick turntable, and more. Check out these great options before making your reservations.
Grilled meats are the specialty at Red Primsteak. All meat is sourced from Allen Brother's and comes with delicious sides.
Located just four blocks from Bricktown, you'll have the opportunity to experience OKC at its finest.
Cheever's Cafe
The first baby ever born in Oklahoma City, Oklahoma Belle, married a Cheever, started a flower business, and years later, we have Cheever's Cafe. The full story is awesome and you can read it on the "About" page.
Cheever's Cafe maintains the original beauty of the flower shop while offering delicious food. They call it "contemporary comfort food" – exciting twists on food we all know and love to eat.
If your desires for a night out includes not just good food but a glimpse into the glorious past of OKC, Cheever's is the place for you.
Paseo Grill

Paseo Grill features classic American cuisine with an international flair and offers a sophisticated yet casual dining experience.
No matter what you choose from the extensive dinner menu, you will get a great suggestion for a wine pairing during each course. The menu is delicious, and the desserts are to-die-for.
Vast
Located on the 49th floor of the Devon Tower, Vast offers an experience for more than just your tastebuds.
OKC isn't just the home of Vast – it's the inspiration, why, and how they do what they do.
If you find yourself out during the day, they offer an extensive and delicious lunch buffet, menu changing daily. And when ordering off the menu, since their kitchen is completely from scratch, they are able to accommodate food allergies if you let your server know.
Between ambiance and food experience, Vast is quickly becoming the premiere romantic restaurant in OKC.
Mickey Mantle's Steakhouse
On iconic Mickey Mantle Drive in OKC's Bricktown, you'll find Mickey Mantle's Steakhouse.
Featuring the freshest seafood in town as well as most extensive Wagu selection, you'll find something delectable to sink your teeth into at Mickey Mantle's.
Enjoy the chef-driven menu while enjoying hard-to-find vintages as well as fresh harvests from the wine list, then enjoy a scotch and cigar in the lounge.
Metro Wine Bar and Bistro
In the Nichols Hills Neighborhood, you'll find the Metro Win Bar and Bistro.
Whether you drop by for a glass of wine and an appetizer or you stay for dinner, the Metro Wine Bar and Bistro prides itself on being the right fit for your occasion – whether it's on the more casual or more formal side.
With an epic wine list of 400+ wines strong, you're sure to enjoy your sips and dishes when you dine at Metro.
Ranch Steakhouse
Unbridled food, hospitality, and southern comfort await you and Ranch Steakhouse.
If the atmosphere and cuisine of Ranch Steakhouse don't seal the deal for you, the service definitely will, as the staff strives for complete guest satisfaction.
Sourcing grass-fed beef selections, Japanese Wagu, and bison options, you'll love your dinner options at Ranch.
The Drake
When you think 'seafood' you maybe think a pier or ocean-front city. When maybe you should think The Drake in OKC.
If you're looking for a romantic restaurant in OKC with aphrodisiacs on the menu, then an oysterette is perfect.
With relationships with fisherman and fishmongers in different ports, the selections of oysters are delicious, fun, fancy, and definitely flirty.
Mahogany Steakhouse
Midwestern, perfectly marbled beef, served on a warmed plate for the optimal dining experience is the name of the game at Mahogany Steakhouse.
Great steak is the rule at Mahogany, not the exception. And they also feature Australian lobster and other daily fresh seafood options.
Enjoy this less-intimidating fine dining atmosphere when you're looking for a romantic restaurant in OKC.
Broadway 10 Bar & Chophouse
Located in the historic Buick Building in Automobile Alley, you'll find the Broadway 10 Bar & Chophouse.
Wood-fired meats and handcrafted cocktails make each meal not just something to eat, but an experience.
You'll love their 28-day-aged Primal cuts as much as their specialty, Kelley's chocolate cake. You don't want to miss the revival in Automobile Alley and at Broadway 10.
And there aren't just great romantic restaurants in Oklahoma City, there are great romantic restaurants in Norman OK too! Also, enjoy these ideas on great romantic things to do in Oklahoma City. With all of these great choices, you can plan several romantic nights out!
Get our free ebook guide to the best things to do in Norman and OKC. The best activities, restaurants, museums, events, views, and much more!
Click here to request the guide.
Where To Stay
If you are looking for a bed and breakfast in Oklahoma City to cap off your great night out at a romantic restaurant, check out The Montford Inn and Cottages. This delightful gem is a great way to cap off the most romantic night out. Check out the beautiful rooms and start planning your stay.