The University of Oklahoma campus is a bustling and beautiful place to earn a higher education. It's located in Norman, the third-largest city in the state where Western history meets cosmopolitan culture.
New students living at the university and parents who visit will fall in love with the diverse community where the Sooner way of life offers a balance between hard work and recreation.
To get the most out of your OU experience, here are some fun, important, and quirky things you should know before setting foot on campus this fall…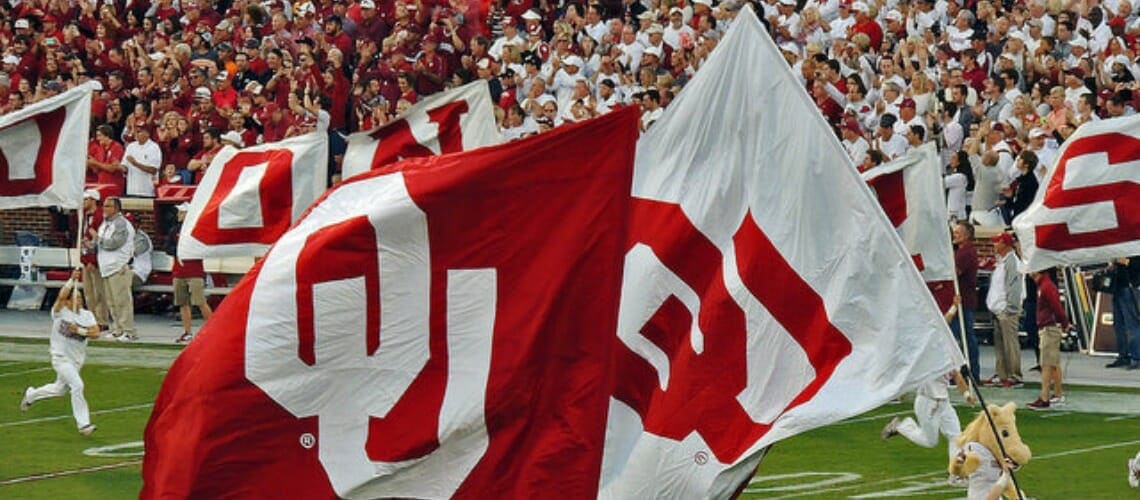 The Bizzell Memorial Library has more than 6 million volumes.
The Bizzell Memorial Library is a five-story building with elaborate Cherokee Gothic or Collegiate Gothic architecture. It was built in 1928 under OU President William Bennett Bizzell's administration and was designed by Layton Hicks & Forsyth.
The multi million-volume collection was started with just 53 books that belonged to David Ross Boyd, the first OU president. Among the collection is a children's section with a wide range of books for small children to young adults. It's a good place to entertain younger siblings.
Studying in the Great Reading Room feels like you're in Hogwarts.
The Great Reading Room, officially called the Peggy V. Helmerich Great Reading Room, is known for being the quietest place to study, and it looks like it came out of a "Harry Potter" movie. Located on the second floor of the Bizzell Memorial Library, it features Wi-Fi access and OU graduates' dissertations and theses.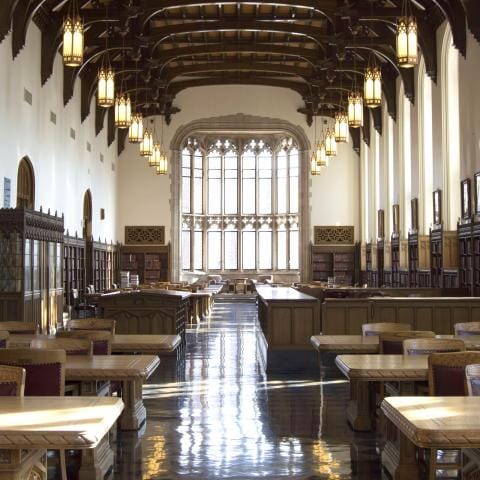 The Stacks may seem eerie but are filled with interesting books.
Most of the books in Bizzell Memorial Library are kept on The Stacks, a series of shelves across multiple floors where you can easily get lost. But, you'll find tons of interesting reads. While walking the glass floors, you might feel like you're in a scary movie.
Campus Corner has the best dining, shopping, and sports game experiences.
To the north of the OU campus, there's a small collegiate shopping and restaurant district called Campus Corner. It stretches across four blocks and features 75 dining, entertainment, and retail venues, from specialty boutiques to burger joints.
Developed in the early 1900s to serve the needs of university students and faculty, Campus Corner is a historical district. It has become a thriving center for all kinds of activities, including watching sports games at some of the restaurants.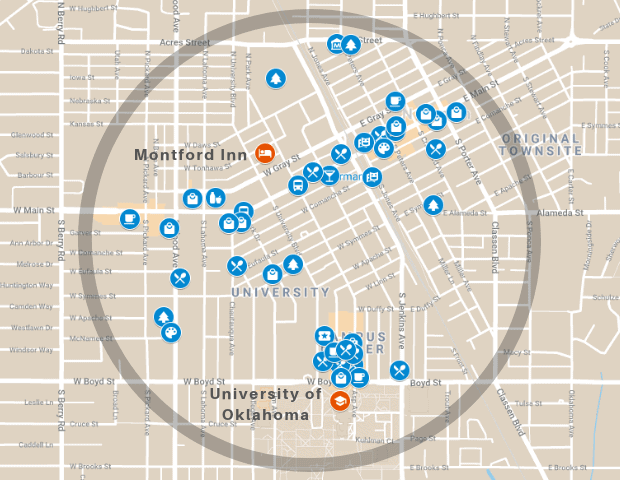 You HAVE to get a monstrous ice cream sandwich from Baked Bear.
Making memories fresh every day, Baked Bear is home to huge ice cream sandwiches. The cookies and ice cream are made from scratch with high-quality ingredients and are absolutely delicious. You can't spend time at OU without one!
Warm cookie delivery is perfect for working on papers and studying all night.
If it's the middle of the night and you're up working on a paper or studying, you can order delivery from Insomnia Cookies for fuel. The cookies are delivered warm, or you could order brownies or cookie cakes. Do you need milk or ice cream to go with that? You can order it too!
Reading next to Duck Pond is refreshing after a long week.
After a long day or week of working hard, you can get a quick refresh at Duck Pond. The natural serenity makes it a fantastic place to spend an afternoon. It's located near the Track and Field Complex and across from Callaway House Apartments.
There are 55 public parks and tons of recreational activities in Norman Oklahoma.
There are numerous ways to recharge your batteries in Norman, including golf and disc golf courses, hiking trails, tennis courts, fishing spots, a municipal swimming pool complex, and more. A weekly hike at Lake Thunderbird is a wonderful idea too.
Plus, Oklahoma has more than 11,600 miles of shoreline — more than the Gulf of Mexico and the Atlantic coast combined. So, water sports are never far away.
Other recreational activities include billiards, bowling, laser tag, mini-golf, motor sports, paintball, and skating. Norman has several health clubs and gyms as well.
Explore More to Do in Norman OK
Photo copyright by Mark Burgess valleyphotosok.com and used with permission.
OU is located in one of the most affordable cities in the country.
Time magazine ranked Norman Oklahoma the "least expensive city to raise children" in the fall of 2014. Its cost of living is nearly 15% less than the national average. Since new students must live in freshman-designated housing for the first year, it's nice to know that the cost of living will be lower than at some other universities.
9 Reasons Why Norman OK is One of the Best College Towns in America
More than 28,000 students enrolled for the school year.
For the 2019-20 school year, OU had over 6,300 graduate students and over 21,700 undergraduates enrolled. Among full-time freshmen, 44% were from out of the state. While the average class size was 32 students, a few classes had more than 100 students.
During the year, the top five majors (in order) were biology, psychology, finance, health and exercise science, and pre-nursing studies. In total, the university offered more than 170 undergraduate degree programs and over 120 graduate degree programs.
Walk to your classes before the semester starts to find out how long it takes to get to each one.
The OU campus stretches across several blocks in Norman, so it can take some time to walk from class to class. Before your classes start for the semester, you can use a campus map to walk the route and get an idea of how long it will take to get from one to the other.
You can use campus maps to explore the rest of what OU has to offer too. We recommend visiting every building, including the zoology department and the music and art schools. There's stunning architecture throughout.
The Best Places Within Walking Distance of the Montford Inn
Always pay attention to the weather.
Just because the sun is shining when you go into class doesn't mean that it will still be shining when you come out. Oklahoma is known for having unpredictable weather, particularly during the Spring season, so check the weather before you head out the door.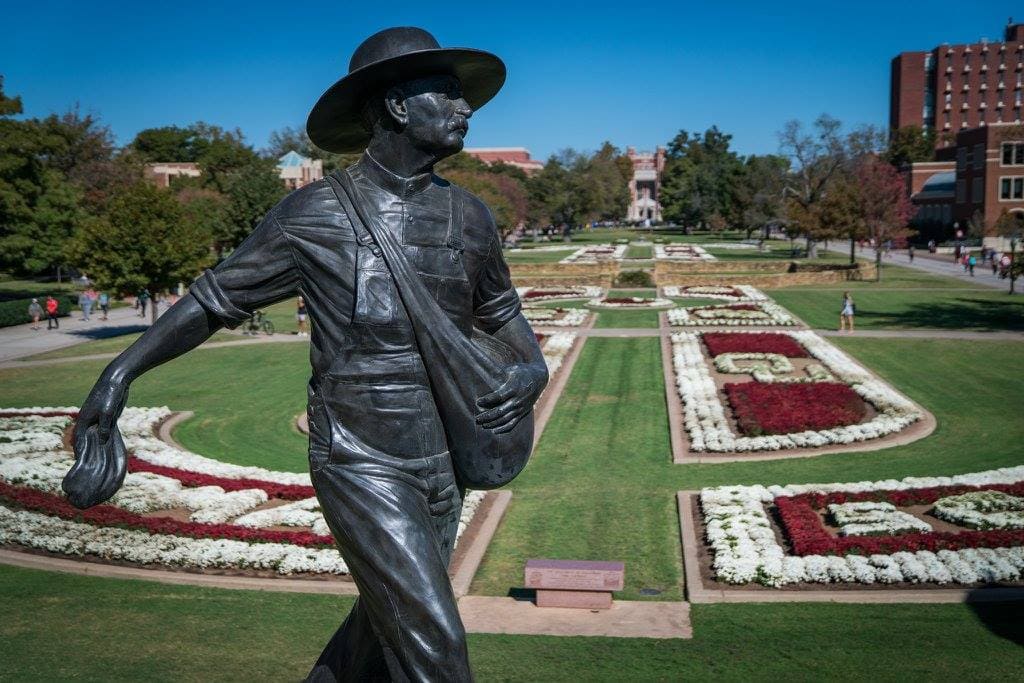 The campus has several iconic spots that are great for selfies.
As mentioned, The University of Oklahoma is full of things to explore, but there are a few must-visit spots.
Seed Sower Statue
The Seed Sower statue is a monument in tribute to David Ross Boyd, the first university president who started beautifying the campus by planting trees. It's located on the south side of the South Oval (Van Vleet Oval), a large, central green space in front of Bizzell Memorial Library.
Unity Garden
From the Seed Sower statue, head up the South Oval toward the library to find a sunken-in area called the Unity Garden. There are four sets of steps leading down to flowers at the very center. It's the perfect spot to meet with friends.
OU Seal
On the north side of the South Oval and by the library is an OU Seal. This hand-cast bronze seal was donated by OU President David Boren and First Lady Molly Shi Boren.
It's installed on the Scholar's Walk, and students are prohibited from walking on it until graduation day, making it like a right of passage. You can still get a selfie next to it, though.
Clock Tower
To the west of Bizzell Memorial Library is the clock tower. There's a legend that if you walk under it, you won't graduate on time. If you don't want to take any chances, keep your distance while grabbing a photo.
Oklahoma Canyon Garden
Between the library and clock tower is the Oklahoma Canyon Garden. You get to it by going through the Zarrow Family Faculty & Graduate Student Center.
Spoonholder
On the other side of the library, the Spoonholder is located on the North Oval (Parrington Oval). It was built near the center of this green space by the Class of 1910. Legend has it that if you kiss someone here, you're destined to get married.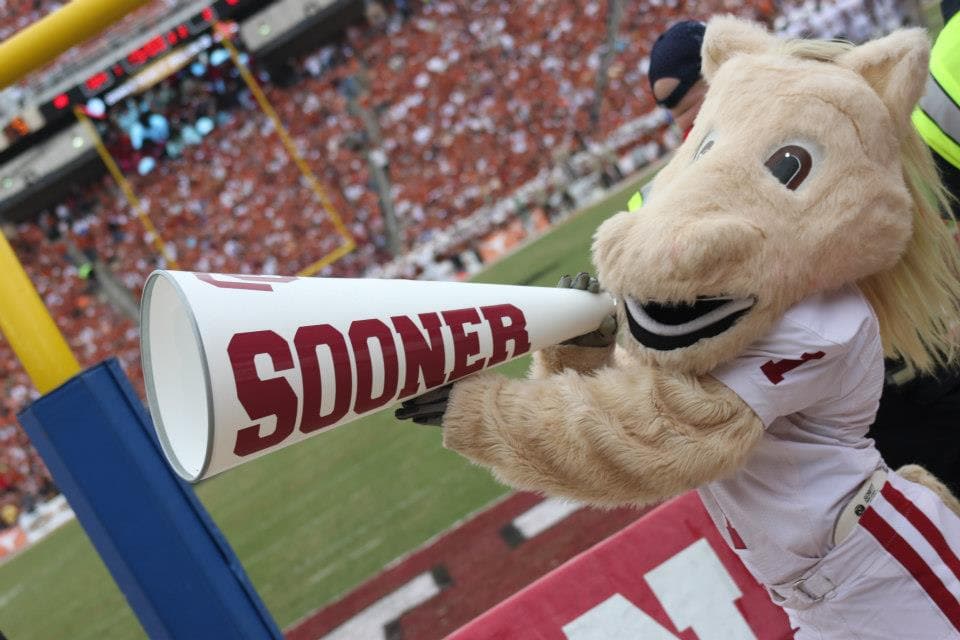 Along with football, OU has a lot of sports teams.
The OU Sooners are consistently dominant athletic teams across the board. Everyone knows about Sooners Football, but the university has all kinds of unique sports teams — baseball and softball, basketball, cross country, golf, gymnastics, rowing, soccer, tennis, track and field, volleyball, and wrestling.
Even if you aren't interested in sports, you have to get a photo with a body-painted Boomer Sooner fan. The term "Boomer Sooner" refers to the university's costumed mascots, Boomer and Sooner, who are an extension of the Sooner Schooner, an old Conestoga covered wagon replica pulled by horses.
Note: Football is so popular that vehicle traffic is backed up for hours on game days.
OU has more than 500 student clubs and other organizations.
Joining a student organization (or a few) is an excellent way to get involved at The University of Oklahoma. It has more than 500 active registered organizations across many interests — academic, cultural, political, religious/spiritual, social, and more. You can even start a club of your own.
Among the hundreds of clubs are more than 40 fraternity and sorority organizations. About 25% of OU students join this Greek system.
The Helmerich Collaborative Learning Center is designed for learning, experimenting, and engaging with others.
For working in a group, head to the Helmerich Collaborative Learning Center. This technology-enabled space features a community room for special events, eight study rooms for working on projects, and a classroom for large groups.
Balfour of Norman is the best place to get must-have Sooner gear.
While you're in Campus Corner, you have to get university gear from Balfour of Norman. You aren't officially an OU student until you do. The shop has sportswear, gifts and collectibles, jewelry, and more.
Note: OU colors are crimson and cream. Don't wear orange on campus because it's both the Oklahoma State University and University of Texas' colors.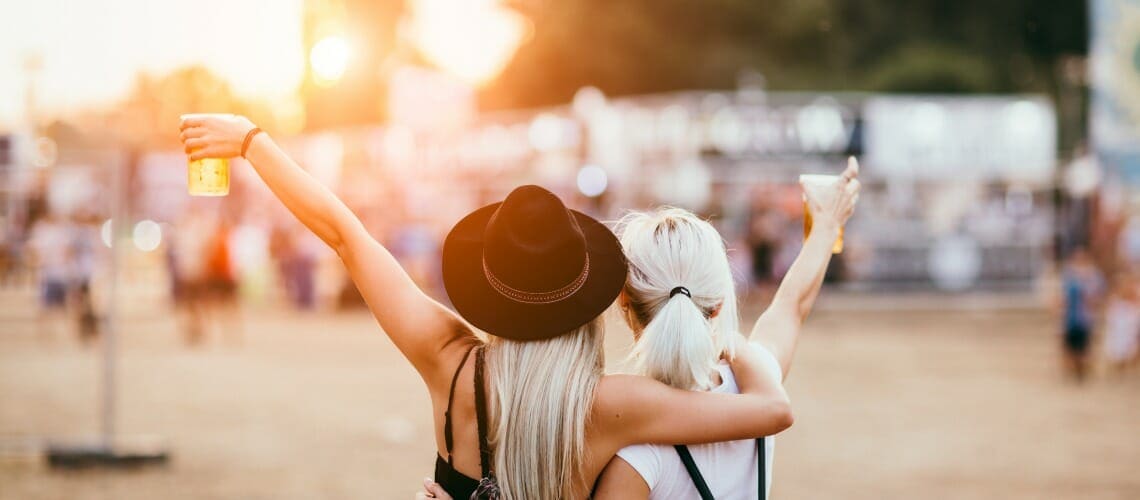 You can attend more than 25 annual events, fairs, and festivals in Norman.
Attending festivals and events is another way to wind down when you feel stressed, and Norman is known as the City of Festivals. With more than two dozen events every year, you have plenty of opportunities to blow off some steam.
The Best Norman Events Year-Round in 2022
About 20 miles away, Oklahoma City is an awesome day-trip destination to recharge.
If you want to get away from OU and Norman for a little bit, Oklahoma City is only a 30-minute drive north. You can explore the downtown area, ride a water taxi down the canal, check out a museum, or take a horse-drawn carriage ride. There's plenty to see and do!
Explore Things to Do in Oklahoma City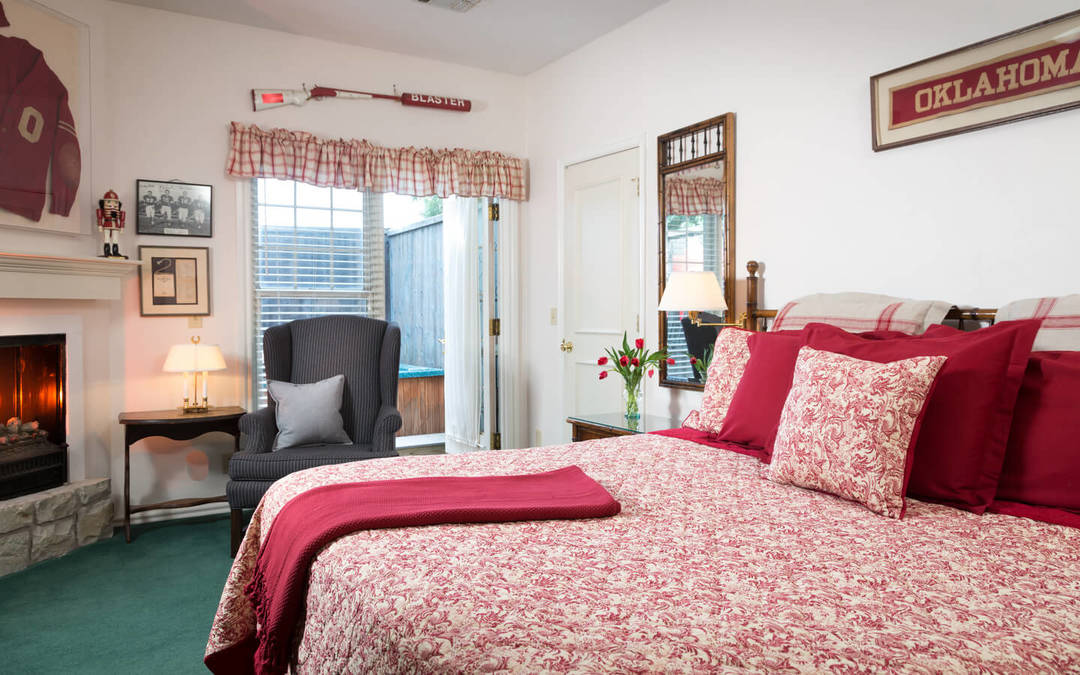 Montford Inn has the most hospitable accommodations for visiting The University of Oklahoma.
Parents who are visiting OU students will appreciate the traditional hospitality of the Montford Inn. With the class of a boutique hotel and the warmth of genuine Oklahoma hospitality; the inn offers cozy rooms and cottage suites with modern conveniences and personal touches that make your stay memorable and comfortable. And, you can enjoy a homemade, gourmet breakfast every morning. Check our availability for your upcoming travel dates.
Get our free ebook guide to the best things to do in Norman and OKC. The best activities, restaurants, museums, events, views, and much more!
Click here to request the guide.