Getting hungry is just a part of exploring Norman Oklahoma, whether you live here or you are visiting. Fortunately, there are dozens of fantastic places to eat without having to go into Oklahoma City. To get you started, here are some of the best lunch restaurants in Norman OK.
Get our free ebook guide to the best things to do in Norman and OKC. The best activities, restaurants, museums, events, views, and much more!

Click here to request the guide.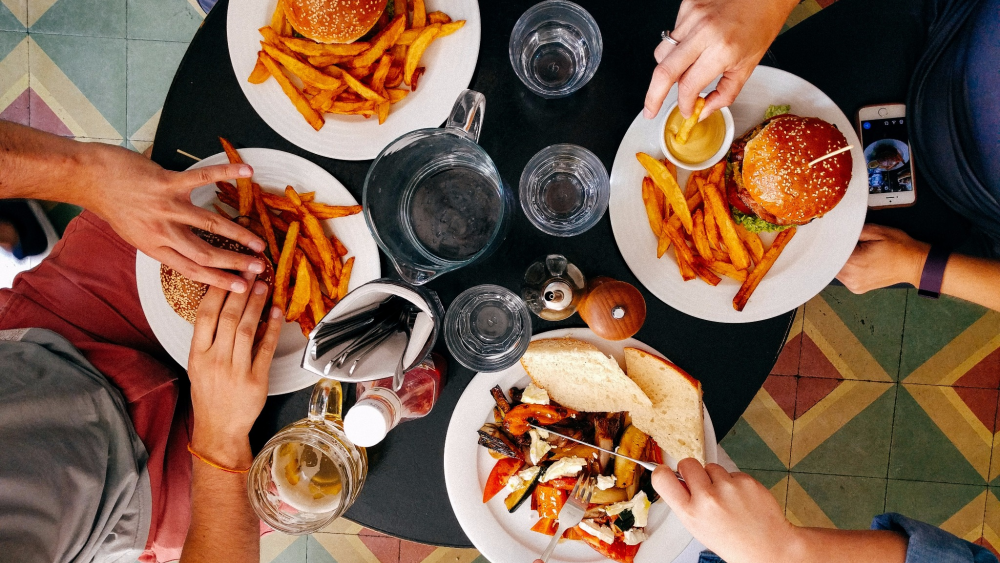 Eat Healthy at The Earth Cafe
Striving to create a place to nourish the body, mind, and soul, The Earth Cafe is a neighborhood cafe and deli, as well as one of the most environmentally conscious eateries in the area.
It uses available organic produce for everything on the menu — smoothies, juices, teas, soups, salads, sandwiches, and special platters. You can even order breakfast all day (as long it lasts), and gluten-free and vegan options are available.
Enjoy Sushi & More at The Moon Sushi & Asian Bistro
Featuring an eclectic dining room, The Moon Sushi & Asian Bistro serves some of the finest sushi, sashimi, maki, and in-house sauces in Norman Oklahoma. Also on the menu are poke bowls, salads, and bistro dishes — steamed buns, ramen, and kimchi. You can order beer, cocktails, sake, or wine to go with your meal too.
Get Authentic Thai Food at Thawan Thai Cuisine
Thawan Thai Cuisine specializes in Northern Thai dishes. The dining room has a low-key atmosphere, so it's a great place to recharge during lunch. Plus, the menu features lunch specials of noodles, fried rice, stir-fry, and curry. Or, you can order from a selection of seafood entrees and chef's specials.
Order Authentic Mexican & Tex-Mex at the Tarahumara's Mexican Cafe
The Tarahumar's Mexican Cafe — referred to by locals as simply Tara's — serves some of the best Mexican cuisine in Norman. Featuring a bar and patio, this family-owned restaurant has a laid-back environment and serves everything from scratch-made green and red chile salsas to quesadillas to burgers.
Try Some Finger-Licking Classics at Ray's BBQ
The mellow Ray's BBQ is known for owner Darrol Ray — a former football player for the University of Oklahoma and the New York Jets. He opened the joint in 2008, returning to his roots after his football career. Choose from brisket, burgers, chicken, chopped pork, and St. Louis-style ribs served alongside classic side dishes.
Relax With Pub Fare at Charleston's Restaurant
Serving traditional American cuisine, Charleston's Restaurant has the ideal pub menu. The hickory-fired grill (alongside the staff) is responsible for the tasty slow-roasted prime rib and barbecue ribs. The menu also includes burgers, sandwiches, chicken, steak, and specialty plates, as well as gluten-free options.
Nosh on American & Mexican Classics at Juan del Fuego
For a relaxed diner experience, Juan del Fuego is one of the best lunch restaurants in Norman OK for Mexican favorites. The family-friendly menu features burritos, enchiladas, quesadillas, tacos, tamales, and tostadas. But, there are American classics on the menu too — burgers and sandwiches.
Dine on Gourmet Eats at The Garage
At The Garage, you can expect a menu of creative gourmet burgers, hot dogs, and tacos. This trendy bar is the best place to go to watch sports and games while you eat.
You can get gluten-free buns, lower-calorie options, and vegan garlic quinoa patties for your burgers. And, you can't beat the fresh-cut fries alongside the chicken salad and the fish and chips, as well as the extensive list of craft beer.
Build a Pie at Hideaway Pizza
When you're in the mood to eat pizza, Hideaway Pizza is one of the best lunch restaurants in Norman OK. In addition to serving specialty pizzas, you can build your own pie with an array of fresh toppings and ingredients. The menu also includes baked pasta dishes and sandwiches, craft beer, and yummy desserts — like a frozen lemonade pie.
Enjoy Casual Dining at Pepe Delgados
If a bright dining room is your jam, Pepe Delgados will more than deliver. This authentic Mexican eatery serves all the classics — burritos, quesadillas, tacos, vegetarian options, and housemade chips and salsa. Check out Pepe's specials too, such as the super nachos and sopes.
Get Southwestern Specialties & Diner Classics at The Diner
Established in 1989, The Diner is renowned for its hearty American dishes, chili, and huevos rancheros. In fact, its award-winning chili has been featured in an episode of "Uncovering Oklahoma," and its beef and bean burrito has been eaten by Guy Fieri. The restaurant serves burgers, melts, grilled cheese, and sandwiches too.
Order American Fare at Kendall's Restaurant
Adorned with music and sports memorabilia, Kendall's Restaurant has been serving Southern-style fare — burgers, sandwiches, fish, and shrimp — for more than 35 years. Additionally, the menu features country dinners, such as breaded pork cutlet, chicken-fried steak, and a burrito plate. And, don't forget one of the popular cinnamon rolls.
NOTE: Kendall's Restaurant is cash only, so we recommend going prepared.
Have Breakfast for Lunch at Neighborhood JAM
Another spot where you can have breakfast for lunch, Neighborhood JAM has created a space where diners can spend quality time with their friends and families. You can choose from various pancake flavors, breakfast tacos and burritos, eggs Benedict, platters, and sandwiches — including a breakfast burger. There are even gluten-free pancake and toast options.
Taste Some of the Best Thai in Norman at Sweet Basil
Since 2005, the family-owned and operated Sweet Basil has been making fresh, authentic Thai food. This warm, art-lined restaurant serves noodle dishes, tom yum, and other Thai favorites — such as fried rice, stir-fry, and curry. On weekdays, you can order lunch combos with your choice of salad, soup, or spring rolls.
Grab Traditional Mexican Cuisine at Ted's Cafe Escondido
Serving traditional Mexican fare since 1991, Ted's Cafe Escondido is a local, full-service Norman restaurant that strives to make every visitor feel special and welcome. The kitchen makes fresh, scratch-made food — bowls, wraps, salads, and soups. Among the many lunch specials, you can create your own lunch of enchiladas and tacos.
Nosh on Authentic German Fare at Das Boot Camp
If you love German cuisine or want to try something new, Das Boot Camp is the place for you. This restaurant and bar opened in 2012 and serves traditional dishes made from scratch — jager burger, jagerschnitzel, jager roast, wiener schnitzel, and various bratwursts.
You can order American-influenced dishes as well, and there are daily lunch specials for food, beer, and drinks. And, don't forget to sink your teeth into desserts like German cheesecake and German chocolate bread pudding.
Choose From Sushi & Entrees at Volcano Sushi Bar & Hibachi
The Norman location of Volcano Sushi Bar & Hibachi is this small franchise's fourth restaurant in Oklahoma. The menu includes lunch bentos that are carefully created with a range of food groups, tastes, and textures.
Also on the menu are grilled entrees, rice and noodle options, tempura, and sake. Plus, you can finish your meal with a specialty dessert — like chocolate lava cake, fried ice cream, and mochi.
Enjoy Bistro Fare at the Redrock Canyon Grill
Combining American and Southwest-style cuisines, the Redrock Canyon Grill has an energetic but casual dining room and a covered patio where you can eat outside when the weather is nice.
In addition to its rotisserie chicken — which is made over an open fire — the menu features sandwiches and house specialties — such as barbecue pork ribs, persimmon hill meatloaf, and steak. Gluten-free options are available too.
Order Tasty Mexican Eats at Fuzzy's Taco Shop
Fuzzy's Taco Shop is a modern counter-service restaurant that makes Baja-style tacos with a signature garlic sauce, famous chips and queso, and other Mexican favorites. You can choose from burritos, burrito bowls, nachos, quesadillas, and plates. And alongside dairy-free and gluten-free options, you can order beer, margaritas, and other cocktails.
Get Modern American Grub at Pub W
Striving to make everything from scratch, Pub W is one of the best spots to go in Norman to dine and watch the big game with multiple 80-inch televisions. Its signature dish is the Chupacabra Sandwich — toasted jalapeno bread filled with chipotle chicken, grilled onions and jalapenos, muenster cheese, and spicy aioli.
Also on the menu are other sandwiches, burgers, and platters of chicken, fish, and seafood. Gluten-free items are available, and the dessert dishes vary widely — bread pudding, draft espresso martini, churros, and flourless chocolate cake.
Try a Totally Insane Burger at Bad Daddy's Burger Bar
Since 2007, Bad Daddy's Burger Bar has been serving what locals call "totally insane" burgers. This bar pushes culinary boundaries by combining fresh ingredients in outrageous ways.
Along with burgers, the menu includes non-burgers, chicken tenders and wings, huge chopped salads, and sliders. You can order some unique desserts as well — like a chunky Elvis shake or a Key lime pie shake.
Eat Delicious American & Mexican Dishes at The Mont
Established in 1976, The Mont is one of the oldest and best lunch restaurants in Norman OK with access to sports games and a beautifully landscaped patio. The menu has something for everyone — burgers, Mexican specialties, and comforting entrees with low-carb options. You can order specialty cocktails, wine, and more as well.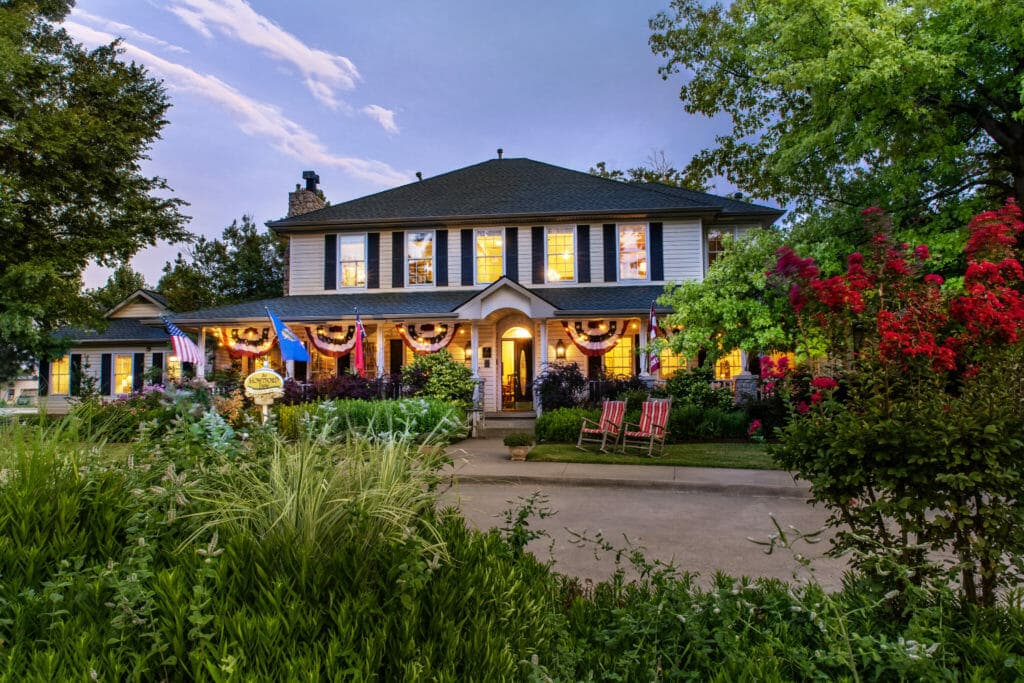 Stay Local Near the Best Lunch Restaurants in Norman OK
If you're from out of town and plan to explore Norman Oklahoma attractions and restaurants for more than a day, consider the Montford Inn for your home away from home. We have rooms and cottage suites for every type of traveler. And, you'll have a host of amenities, including a gourmet breakfast every morning.
Check your travel dates with our availability when you're ready to book your accommodations.
Get our free ebook guide to the best things to do in Norman and OKC. The best activities, restaurants, museums, events, views, and much more!

Click here to request the guide.