Are you planning a romantic weekend getaway in Oklahoma? We have compiled a list of the best inns, cottages, and bed and breakfasts in Oklahoma with the charm, service, and atmosphere you're looking for. Let us help you plan an amazing weekend with your special someone!
The Best Romantic Weekend Getaways in Oklahoma City
Montford Inn – Norman Oklahoma Romantic Getaway
Montford Inn is nestled in the heart of Norman, Oklahoma, and invites you to experience the comfort of being at home, while being a part of something special. Whether you're in town to visit Oklahoma University or you're just looking to get away from the busyness of Oklahoma City, you'll find Montford Inn to be a quiet and romantic getaway in Oklahoma that's close to everything.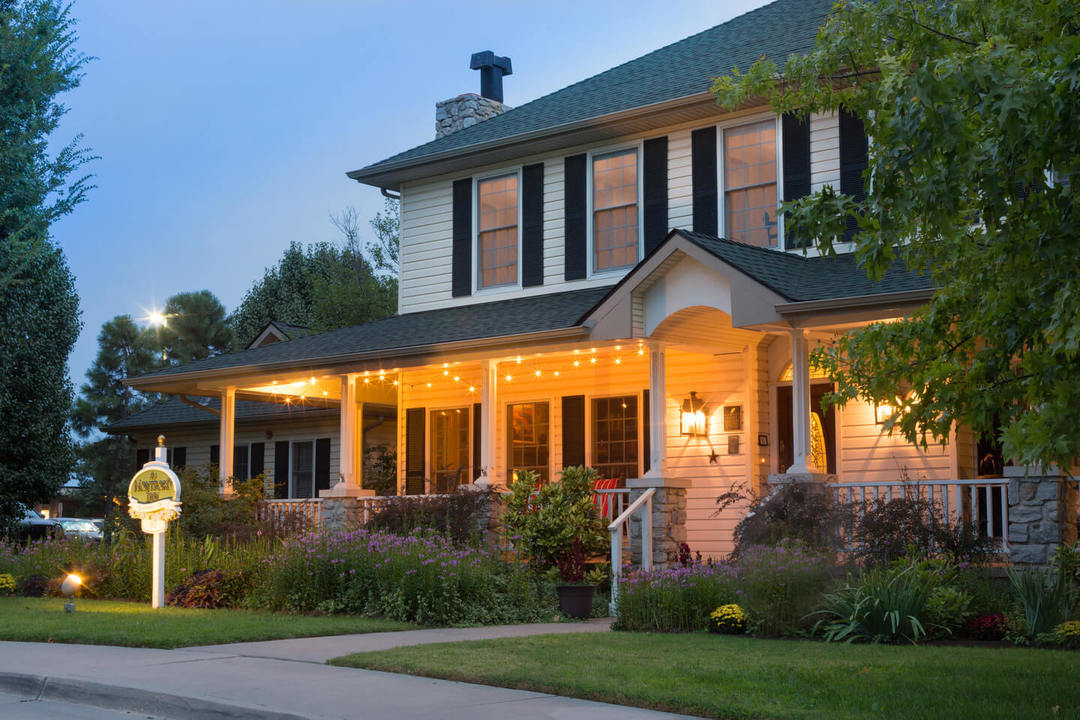 Delightfully romantic and relaxing, Montford Inn was built in 1994 and was custom-designed to create a unique quality and personalized atmosphere. The distinctive ambiance combines both elegance and country tradition.
Within walking distance to downtown Norman and the main campus of Oklahoma University, couples planning romantic weekend getaways in Oklahoma will want to consider the perks of staying at Montford Inn. From the personal attention of the staff to a quiet setting amidst a bustling town, this Norman OK bed and breakfast offers a unique experience for your romantic weekend away.
The staff is so warm and welcoming and the rooms are beautiful! I stayed in the Renaissance and everything was perfect. The breakfast is delicious with a variety of sweet and savory dishes each morning. They also have a front and back porch if you prefer to sit outside and read etc. Absolutely my favorite B&B in Norman. Looking forward to my next visit! – Blake H.
Guests can choose from a room in the main inn or one of the secluded cottages. All rooms come with a complimentary gourmet breakfast, afternoon cookies, and refreshments. Additional amenities complete the guest's experience for a truly romantic weekend getaway.
Many guests have said that Montford Inn is the best place for a romantic getaway in Oklahoma this year, including "C Hall":
"Stayed in the Willow Wood room for our anniversary. Loved the bed, the room was cute and cozy with a fantastic bathroom and the charcuterie board we ordered paired perfectly with the gratis in room house wine. Will definitely be staying again."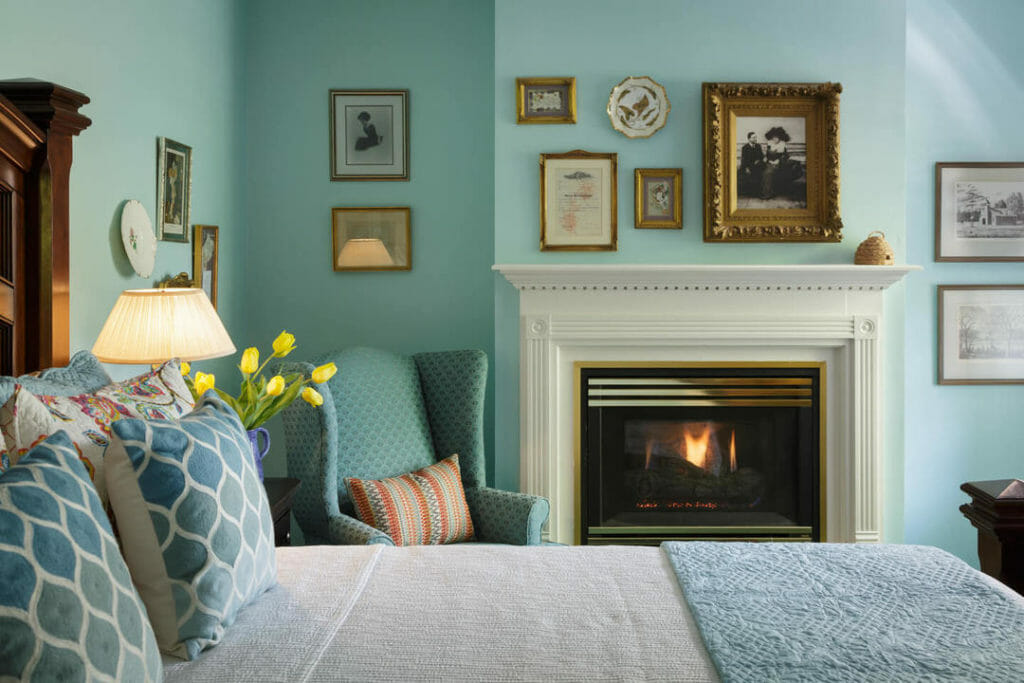 Get our free ebook guide to the best things to do in Norman and OKC. The best activities, restaurants, museums, events, views, and much more!
Click here to request the guide.
Indian Creek Village Winery – Ringwood Oklahoma Romantic Getaway
The Indian Creek Village Inn in Ringwood, OK, is a charming turn-of-the-century style Bed & Breakfast and premier romantic getaway in Northwest Oklahoma. Each of the five rooms is decorated with their own unique, graceful style. Each room is equipped with a master suite with a large jacuzzi tub. Your stay includes a country breakfast, and we think it's one of the best romantic weekend getaways in Oklahoma.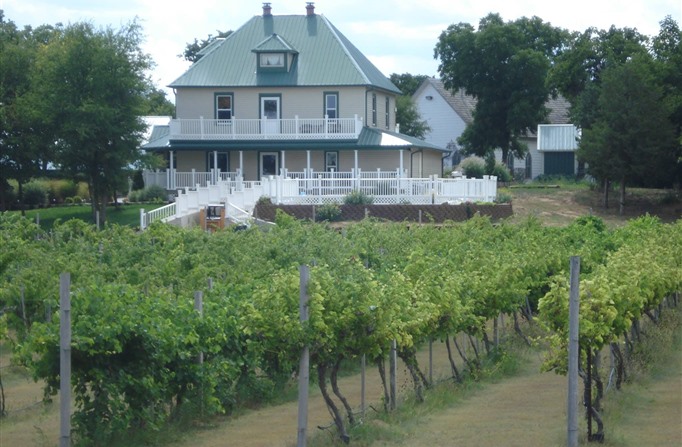 Image Courtesy of Indian Creek Village Winery
Two Hearts Inn – Edmond Oklahoma Romantic Getaway
Designed to encourage married couples in a lavish and relaxing environment, Two Hearts Inn is a new expansion of Inspirations Tea Room – an award-winning restaurant in Edmond, OK. Built on a protected wildlife area, the 10′ wide covered deck wraps around the building for an incredible view of the outdoors. With an indoor sunroom, and a 5000 square foot deck with two covered pergolas, walking trail, and fire pit with seating, there is a place for everyone to enjoy the beautiful scenery.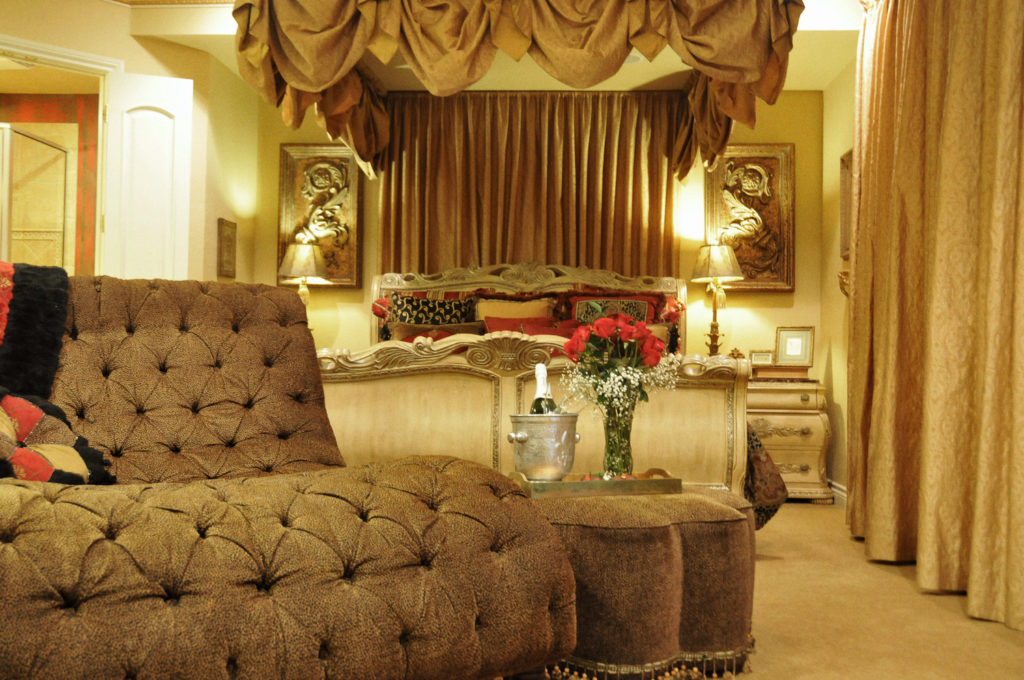 Image Courtesy of Two Hearts Inn
Arcadian Getaways – Guthrie Oklahoma Romantic Getaway
Located in Guthrie, OK, Arcadian Getaways offer luxurious honeymoon cottages for two in the country. Their three unique cottages offer all of the amenities of 5-star resorts and serve a delicious breakfast with "to die for" Vanilla Butter Sauce.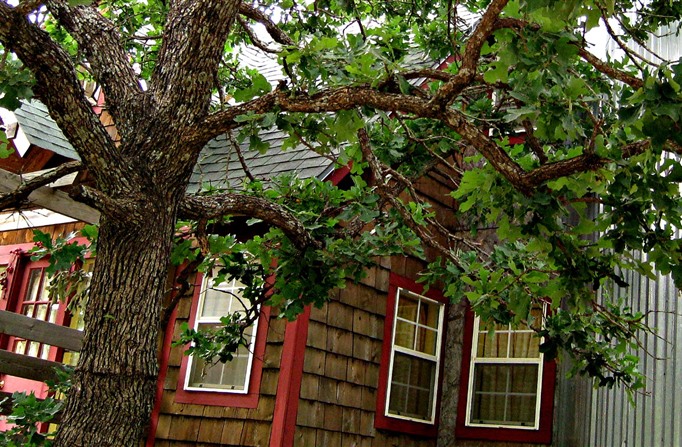 Image Courtesy of Arcadian Getaways
21C Museum Hotel – Oklahoma City Romantic Getaway
Located at the West end along Film Row, and occupying the historic Ford Motor Company Assembly Plant, 21c Museum Hotel Oklahoma City is a 135-room boutique hotel, contemporary art museum, cultural civic center, and home to Mary Eddy's Kitchen x Lounge. The contemporary style and unique location make this one of the best romantic weekend getaways in Oklahoma.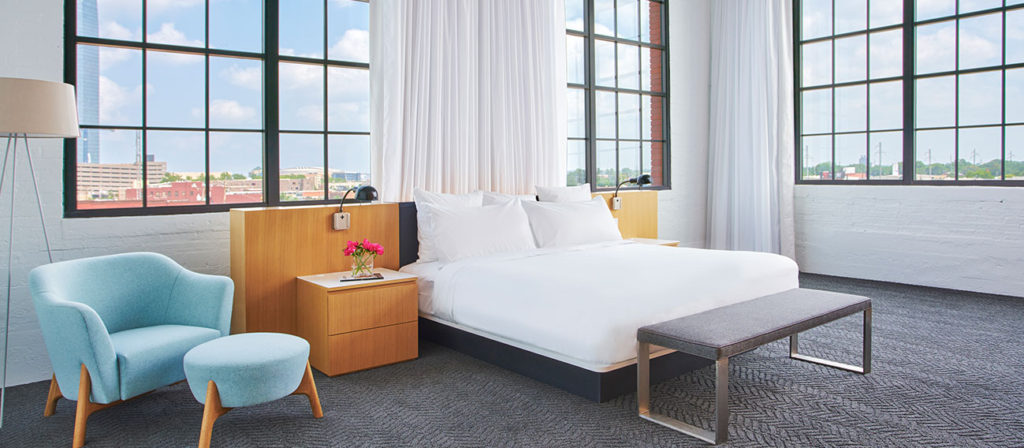 Image Courtesy of 21C Museum Hotel
The Colcord Hotel – Oklahoma City Romantic Getaway
At the Colcord Hotel, luxury means the gold standard of service and comfort. Luxury is the promise we keep to our guests, every day. Whether you're a business traveler or a local in need of a staycation, you will be greeted by our helpful staff and treated with abundant amenities. The Colcord Hotel is located in Oklahoma City.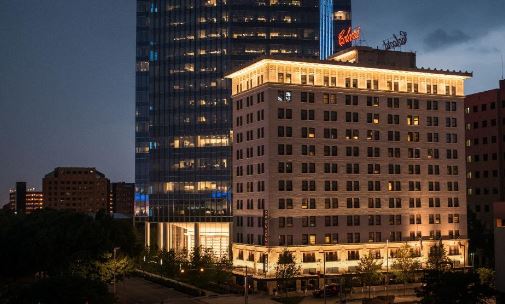 Image Courtesy of Colcord Hotel /Trip Advisor
The Best Romantic Weekend Getaways in Near Tulsa
The Victorian Lady – Tulsa Romantic Getaway
When you enter through the front door of the Victorian Lady in Tulsa, OK, you will feel like you have stepped back in time to the Victorian era with the period reproduction wallpapers and authentic Victorian furnishings and decor. Each room in the Inn is tastefully and individually decorated with charming authentic Victorian furnishings, nostalgia pieces, and many special touches.
The Victorian Lady is a perfect destination for couples celebrating an anniversary or those just looking for a quiet and romantic weekend getaway.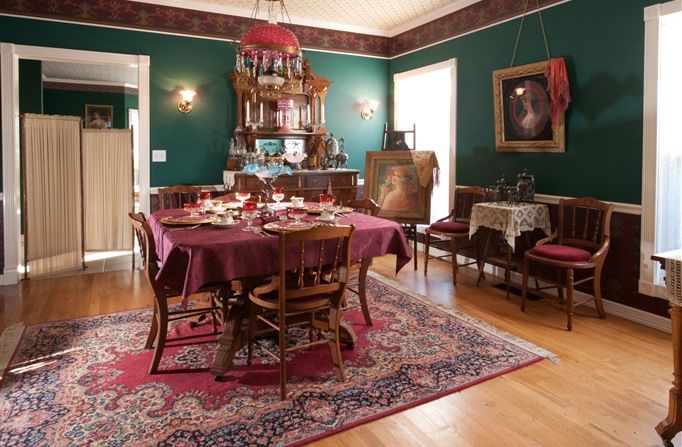 Image Courtesy of The Victorian Lady
Cedar Rock Inn – Tulsa Romantic Getaway
Reserve one of the five luxury suites, and enjoy the beauty, history, and legends of Cedar Rock Inn. The Inn sits on the peaceful 55-acre Redberry Farm in Tulsa, OK. This lovely 1890 sandstone home has been updated and renovated into what is now a one-of-a-kind Bed & Breakfast. Hike, explore, relax or just curl up with a good book and enjoy Cedar Rock Inn.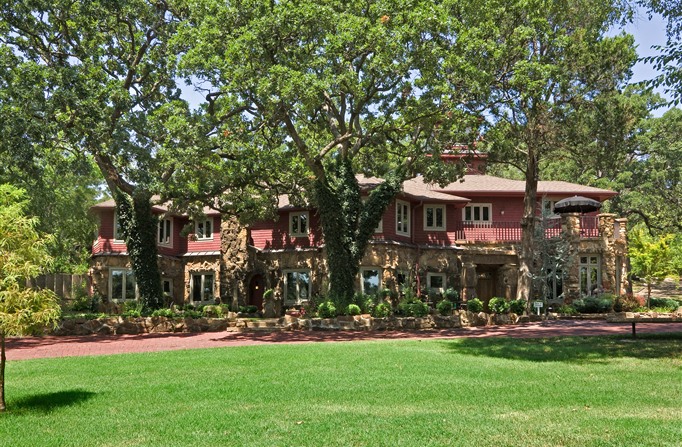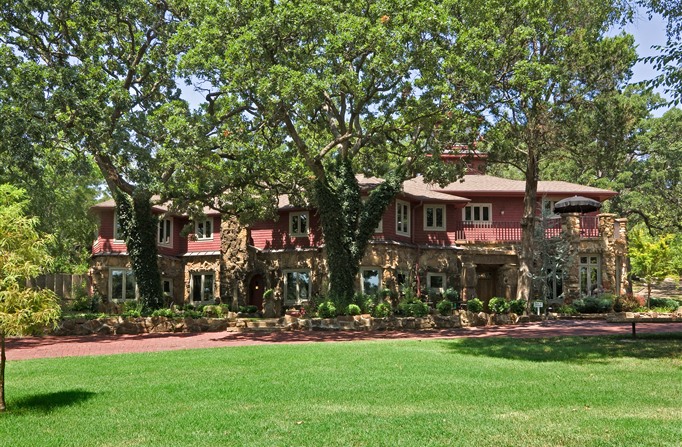 Image Courtesy of Cedar Rock Inn
Terrapin Peak Bed, Breakfast, & Beyond – Cookson Oklahoma Romantic Getaway
The Terrapin Peak Bed, Breakfast, & Beyond is located in a beautiful manicured wooded area near Lake Tenkiller in Cookson, OK. Contemporary, rustic, secluded, charming, and clean – with personalized gourmet cuisine, it would make a great home away from home for a romantic weekend getaway in Oklahoma.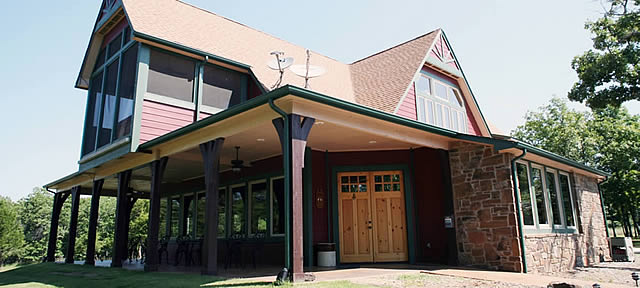 Image Courtesy of Terrapin Peaks BBB
Candlewyck Cove Resort – Grove Oklahoma Romantic Getaway
Nestled among the trees is a seven-acre private resort hidden on one of the great deep water coves on the beautiful Grand Lake, in Grove, OK. Candlewyck offers access to over 450 ft of majestic waterfront and private boat docks allow guests to bring their own boat or personal watercraft. A large swimming pool is available to all guests. Daily pontoon, jet ski, and ski boat rental are available on-site through H2O Sports Rental.

Image Courtesy of Candlewyck Cove
Pine Lodge Resort – Ketchum Oklahoma Romantic Getaway
Pine Lodge Resort is located 2 1/2 miles east of Ketchum, Oklahoma, off Highway 85 – next to Arrowhead South Marina on Duck Creek. Amidst tall timbers or a lakeside cabin, you'll find your perfect get-a-way to relax in front of a rock fireplace or hot tub under the stars. A walk through the woods will cause you to feel lost in the beauty of nature. For the more adventurous soul, Grand Lake is the premier lake in America to boat, fish, sail, parasail and so much more.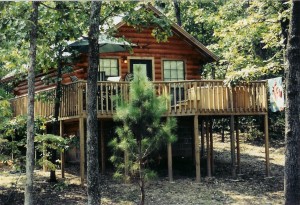 Image Courtesy of Pine Lodge Resort
Ambassador Hotel Tulsa – Tulsa Romantic Getaway
Visitors of the Ambassador Hotel Tulsa – Autograph Collection praise this Marriott-affiliated property for its in-room amenities. Past guests cannot stop talking about the food — such as the beef Wellington and the crab cakes — and drinks offered at The Chalkboard, which is open for breakfast, lunch, and dinner. Once you've satiated your appetite, book yourself an in-room massage or explore the surrounding area by way of the Ambassador Hotel Tulsa's complimentary shuttle (which will take you anywhere within a 5-mile radius).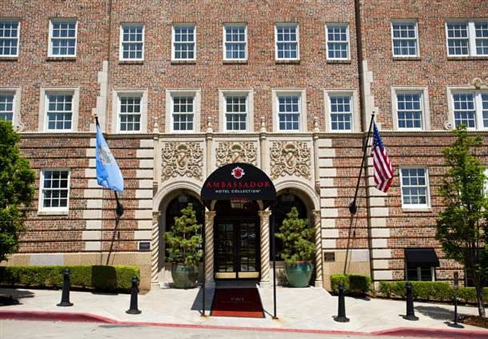 Image Courtesy of Ambassador Hotel 
The Mayo Hotel – Tulsa Romantic Getaway
This historic hotel has been housing visitors in downtown Tulsa, OK, since 1925. After undergoing a $42 million renovation, The Mayo Hotel reopened in 2009, rejoining the city's luxury hotel scene, boasting colorful, contemporary decor and a revitalized spirit. The art deco lobby features extraordinarily high ceilings and marble floors with boldly patterned furnishings adding contrast.  Part of the former Presidential Suite (where Elvis Presley once stayed), the Penthouse Rooftop Lounge serves signature cocktails and downtown views. The Mayo also serves full meals at The Boiler Room.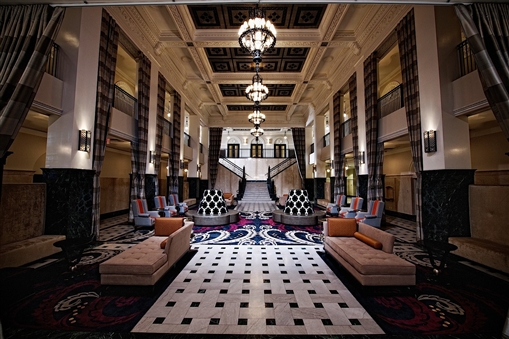 Image Courtesy of The Mayo Hotel
The Campbell Hotel – Tulsa Romantic Getaway
Located right on Historic Route 66, The Campbell Hotel in Tulsa, OK, is a luxurious boutique hotel and event center consisting of 26 uniquely decorated rooms, a lounge, and full salon and spa services, all situated conveniently near downtown Tulsa's most popular sights and attractions. Completely renovated for Tulsa's 2011 Designer Showcase, the hotel invites you to experience a piece of Tulsa's celebrated history and recaptured first-class nostalgia.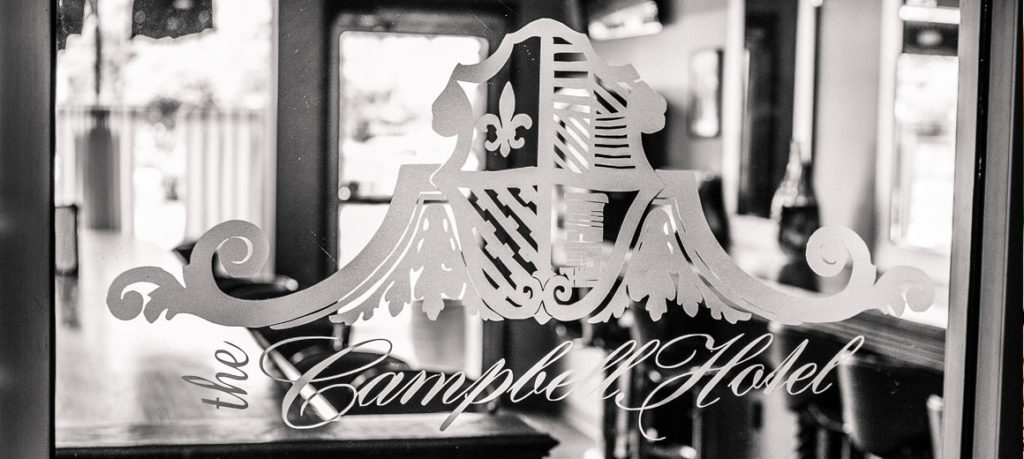 Image Courtesy of Campbell Hotel
Aloft Tulsa Downtown – Tulsa Romantic Getaway
Located in the former city hall building of Tulsa, the Aloft Tulsa is an oasis for the modern and tech-savvy traveler who likes their design lines clean and their buildings with lots of history. If contemporary lodging is your preference, be sure to check out this hotel on our list of the best romantic weekend getaways in Oklahoma.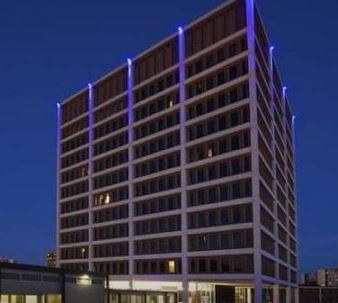 Image Courtesy of Aloft Tulsa / Trip Advisor
Inn at Price Tower – Bartlesville Oklahoma Romantic Getaway
Imaginatively conceived and elegantly constructed within the top floors of Frank Lloyd Wright's only skyscraper, the high-design Inn at Price Tower welcomed its first guests in April 2003 in Bartlesville, OK. Since then, it has become one of America's outstanding travel destinations, and we've included it on our list of the best romantic weekend getaways in Oklahoma.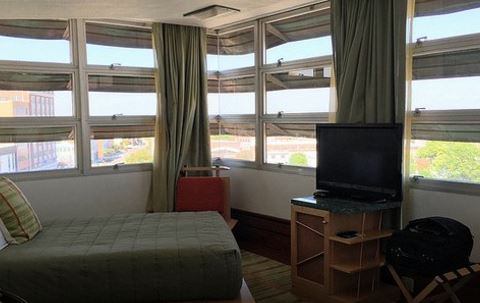 Image Courtesy of Inn at Price Tower/Trip Advisor
The Best Romantic Weekend Getaways in Southern Oklahoma
Shiloh Morning Inn – Admore Oklahoma Romantic Getaway
Shiloh Morning Inn is a luxury bed and breakfast inn located on 73 acres halfway between Dallas (Texas) and Oklahoma City (Oklahoma) – just minutes off I-35. All suites and cottages are furnished with king-sized beds, TV/DVDs, stocked mini-fridges, luxurious private baths, and have either a hot tub or jetted tub for two.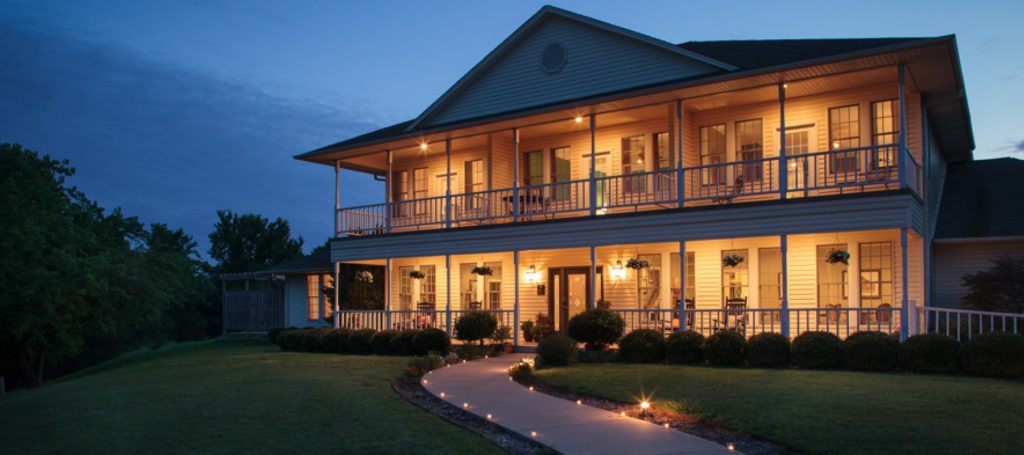 Image courtesy of Shiloh Morning Inn
Echo Canyon – Sulphur Oklahoma Romantic Getaway
Echo Canyon Spa Resort in Sulphur, Oklahoma, is a uniquely romantic B&B nestled beside the beautifully maintained Chickasaw National Recreation Area boasting many natural flowing springs, waterfalls, and great trails. Get a massage in the new Aloha Spa, soak in one of the mineral baths, or enjoy a sumptuous gourmet, triple entree dinner awaits you – prepared by Echo Canyon's two professional chefs who will wine you and dine you. You won't want to miss this gem on our list of the best romantic weekend getaways in Oklahoma!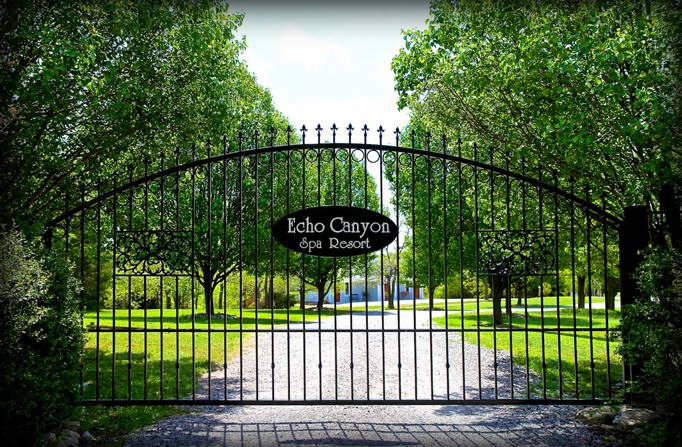 Image Courtesy of Echo Canyon. 
Lago Vista – Broken Bow Oklahoma Romantic Getaway
Located near beautiful Beavers Bend State Park and Broken Bow Lake in Broken Bow, OK, Lago Vista invites guests to choose from one of their 4 guestrooms – each boasting a fireplace, jacuzzi tub, walk-in shower, and private balcony. All rooms include beer and wine each evening and a full breakfast each morning.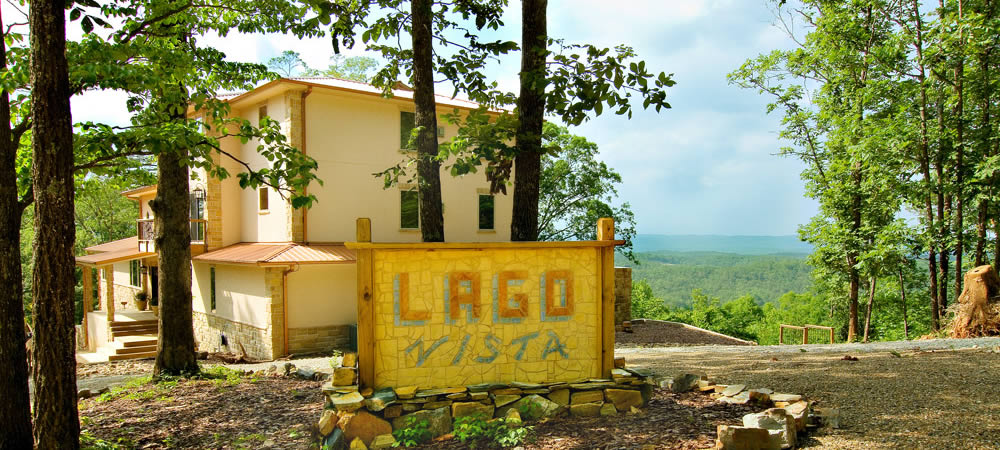 Image Courtesy of Lago Vista
Rivers Edge Cottages – Watson Oklahoma Romantic Getaway
Rivers Edge is comprised of 12 beautiful cottages located along the Mountain Fork River on 300 private acres, just northeast of Watson, Oklahoma. Many guests to Rivers Edge leave speaking of the privacy, quiet, and seclusion while also listing their enjoyment of the river and natural sounds of the woods as favorite reasons for coming back.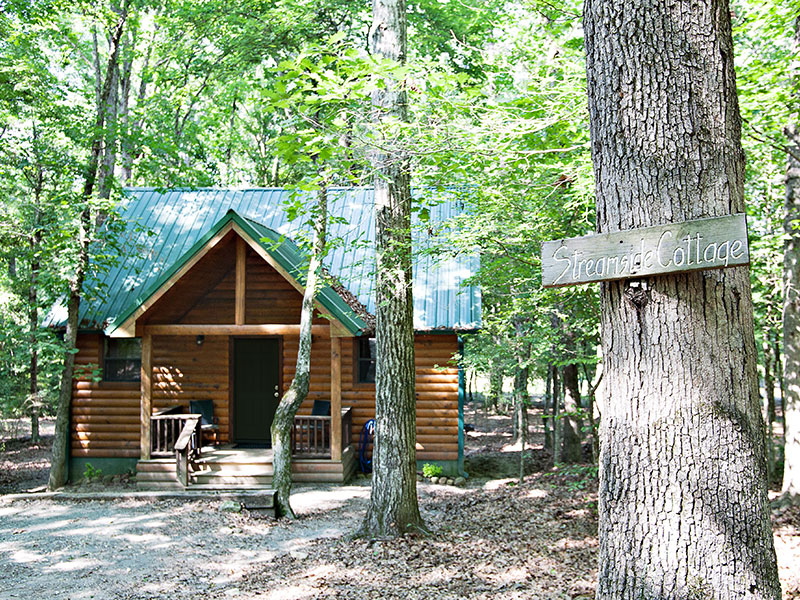 Image Courtesy of Rivers Edge Cottages
A to Z Guest Ranch – Smithville Oklahoma Romantic Getaway
With on-site camping, cabins, trail riding, and more, the A to Z Guest Ranch in Smithville, OK, will take you back to a simpler time and give you a getaway you'll never forget. You can even add on massages to make sure you're completely de-stressed before heading back to your regular life.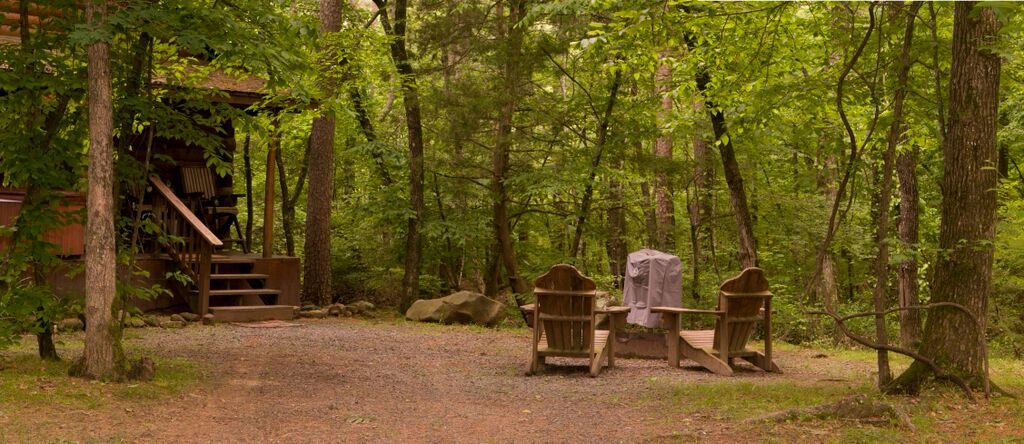 Image Courtesy of A to Z Guest Ranch
Lindley House Garden Cottages – Duncan Oklahoma Romantic Getaway
The Lindley House Garden Cottages Bed and Breakfast is located in the heart of Duncan, OK, and invites guests to enjoy a leisurely setting that boasts all the comforts of home. The English Country Home is nestled in a romantic and relaxing garden-like setting. Centrally-located, the Lindley House is within walking distance to many of Duncan's popular points of interest, including the downtown shopping area, antique stores, shopping malls, the Simmons Convention Center, The Elk's Country Club, and Duncan's newest attraction – The Territory, a private golf and country club community.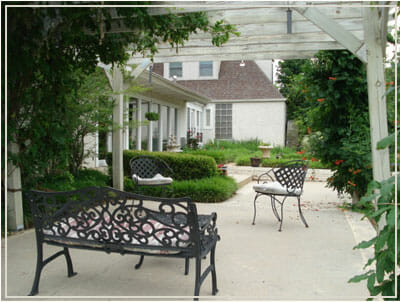 Image Courtesy of Lindley House.
More Romantic Things to Do in Oklahoma
Beyond finding the perfect place to stay for a romantic weekend getaway in OK, you'll also want to know the best things to do, the most romantic restaurants nearby, and where to enjoy an Oklahoma wine tasting experience. You can find all of that and more on our blog.