From east to west and north to south, there's a lot to see and do in Oklahoma. While there's always plenty of activity in major cities like Oklahoma City and Tulsa, some of the best hidden gems in the state can be found in the best small towns in Oklahoma.
Whether you're a fan of history and visiting museums, you're hoping to soak up the majesty of the outdoors in the Boomer State, you love shopping, or you just have fun visiting new places, you don't have to travel far to experience the thrill of discovering a small Oklahoma town.
So bring your camera, your appetite, your sense of wonder (and perhaps a little bit of money) as you prepare to take a road trip to visit some of Oklahoma's best and most beautiful towns.
Norman
As the home of the University of Oklahoma, Norman is always brimming with activity, particularly during football season. Even if you're not a football fan, it's hard not to get swept up in the spirit of togetherness when you're surrounded by Oklahoma's faithful fans on game day.
But Norman is so much more than a college town. It's home to lush parks, museums, restaurants, coffee shops, specialty shops and so much more.
If you're planning a trip to Norman, the Montford Inn is the place to stay! This award-winning bed and breakfast is located right in the heart of Norman, offers wonderful amenities to ensure a comfortable, enjoyable stay, and is within walking distance of so many Norman hot spots.
Get our free ebook guide to the best things to do in Norman and OKC. The best activities, restaurants, museums, events, views, and much more!
Click here to request the guide.
Medicine Park
Believe it or not, only about 300 people live in this tiny town, but it's considered a hidden gem among Oklahomans and was built as the state's first resort town. That means it's brimming with entertainment and lots of fun activities.
One of the can't-miss sites in town is Medicine Creek, a unique waterfall that's short but wide. The waterfall can be easily seen (and photographed) from one of several bridges and it's also a popular swimming spot.
Outside of town, the Holy City of the Wichitas and the Wichita Mountains Wildlife Refuge are popular tourist spots, so it makes sense to stay in Medicine Park and travel from there.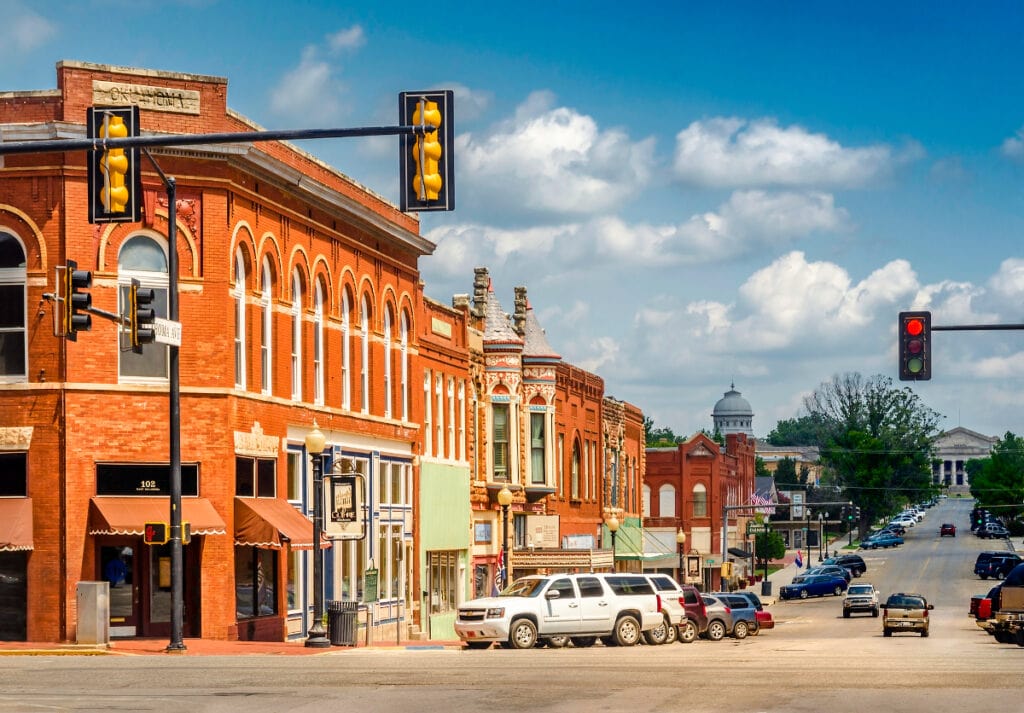 Guthrie
Guthrie is home to more than 11,000 people, but it feels like a small town because of its immaculately preserved downtown. It stretches just a few blocks, but taking a stroll here will make you feel like you've been transported back in time.
Looking for more small-town charm? Pay a visit to the Guthrie train station and stop at the Stables Cafe for a good, stick-to-your-ribs meal. Gage's Steakhouse is another great option for a high-quality sit-down meal in this small Oklahoma town.
If you're looking for a bit of history that's out of the ordinary, make sure to visit the Oklahoma Frontier Drugstore Museum. It's an expansive collection of memorabilia and artifacts from early American drugstores and medical arts.
Pauls Valley
If you're looking to escape the big city for a little while, Pauls Valley in Garvin County is a great spot to do just that with the entire family.
This charming farming town is not short of things to do. There are excellent festivals held all year round, as well as shopping opportunities and plenty of restaurants.
If you only have a short time to spend in town, let your inner child wander at the Toy and Action Figure Museum, which is the nation's first museum dedicated to the process of creating action figures.
The Santa Fe Depot is also worth a visit, especially for the whole family. There's all kinds of railway memorabilia and even a 1902 steam engine, highlighting the city's past as a railroad town.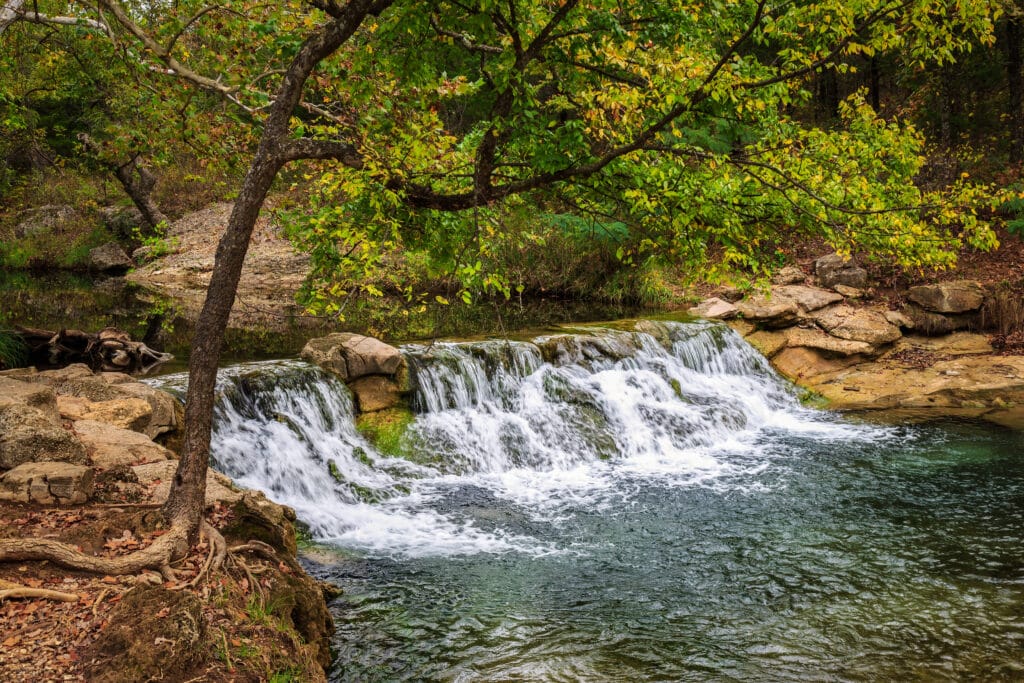 Sulphur
Known as the gateway to the Chickasaw National Recreation Area, this town of around 5,000, is known for its downtown and fancy hotel, the Artesian.
The town is located right in the heart of Oklahoma's cross-timber country, which makes it one of the best spots to enjoy outdoor fun and the natural beauty of Oklahoma.
One spot you'll definitely want to take time to visit is Travertine Creek, just outside the city. This natural swimming hole is fed from Antelope and Buffalo natural springs, helping the creek to maintain an average temperature in the 60s for most of the year.
Broken Bow
Nestled in Southeast Oklahoma, Broken Bow is definitely in the running for the most beautiful place in the state.
The town is home to around 4,000 residents who are in love with nature and outdoor enthusiasts who love to soak in the beauty of the town and the nearby Kiamichi Mountains.
If you love visiting places that leave you in awe and wonder, Broken Bow is one such place that will take your breath away. It's like something out of a picture book and you don't have to travel far to walk the nature trails to see it!
Prague
Prague is the renowned capital city of the Czech Republic and it also happens the namesake of a 2,300-resident town in Central Oklahoma.
Prague, Oklahoma may not have the history or sheer size of its namesake, but there's still a lot to see and go. The city is filled with plenty of great places to take photos, including the National Shrine of the Infant Jesus of Prague.
If you're hungry after a day of exploring, consider stopping at Cowpokes. This eatery has all kinds of BBQ and Oklahoma cuisine options. There's nothing that caps a fun day of exploration like a good meal and you'll definitely find it here.
Tishomingo
Located just over 100 miles south of Oklahoma City, Tishomingo is home to just over 3,000 people and offers visitors an easy, laid-back feel.
In recent years, the town has become known for Blake Shelton's eatery, Ole Red Restaurant. But the town is known for so much more than that.
If you like history, be sure to visit the Chickasaw National Capitol Building. If you're craving an outdoor experience, the crisp water of Blue River is a wonderful spot for trout. If you love antiquing, visit the Junk Store — rumored to be owned by Blake Shelton's mother — to find a hidden treasure.
Alva
Situated in Northwestern Oklahoma in the state's Red Carpet Country, Alva is a hidden gem in the Boomer State and a mecca for the arts.
Don't be fooled, Alva has lots of small-town charm, but it's also bursting with culture in the form of historic murals, art, and music.
If you love art and history, be sure to visit the Cherokee Strip Museum, which has 40 rooms full of Indian art and incredible artifacts. You'll also want to stop by the Graceful Arts Center, which displays local art you can purchase.
Perry
Located an hour north of Oklahoma City, the town of Perry was born out of land run in 1893.
Today, Perry is known for its high school wrestling program and as the birthplace of many wrestling legends including Olympian Danny Hodge.
Elsewhere in Perry, visitors can brush up on the history of the town and its place as former Native American land at the Cherokee Strip Museum, which details the history of the Cherokee Outlet.
Outdoor enthusiasts will also love taking a trip to Perry Lake, which offers great opportunities for swimming, fishing, RVing, and boating.

Bartlesville
Just a little north of Tulsa is Bartlesville, a city of nearly 40,000 people that has a small-town feel.
The city offers no shortage of things to do, including several festivals and shows downtown. Sunfest features a music festival and a classic car show. The Oklahoma Indian Summer Festival celebrates the culture of Native Americans and includes a fine art market.
Bartlesville is also home to Price Tower, one of Frank Lloyd Wright's only realized skyscrapers. The Bartlesville Community Center is also the center of concerts throughout the year, including OKM Music, which features a variety of musical performances from renowned artists.
With additional museums and historic homes, Bartlesville offers so much for visitors of all ages.
Atoka
With just over 3,000 residents, Atoka is a small town in Oklahoma with a diverse and historic background dating back to the 1850s. Just a two-hour drive from Oklahoma City or Dallas Texas, it's the perfect destination for an Oklahoma day trip or extended getaway.
In recent years, the town has been named the "Best Antiques" destination in southeastern Oklahoma, boasts great fishing, is a bird-watching destination, and offers amazing stargazing ambiance at McGee State Park. With several major roads crossing the small town, over 28,000 pass through daily.
But the biggest boast of the town is being the hometown of country music superstar, Reba McEntire. In fact, she recently opened Reba's Place – a restaurant, bar, store, and live music venue.
Pawhuska
This sleepy town of around 4,000 residents is arguably one of the most popular small towns in Oklahoma.
The town has become a popular location for movies and TV. Food Network Star Ree Drummond, the Pioneer Woman, is a resident of Pawhuska and has filmed more than 400 episodes in her home. More recently, the Martin Scorsese film "Killers of the Flower Moon," starring Leonardo DiCaprio was filmed here.
Elsewhere in Pawhuska, visitors can enjoy shopping at The Mercantile, visit the Osage Nation Museum, or visit the Tallgrass Prarie Reserve to get an up close and personal view of bison.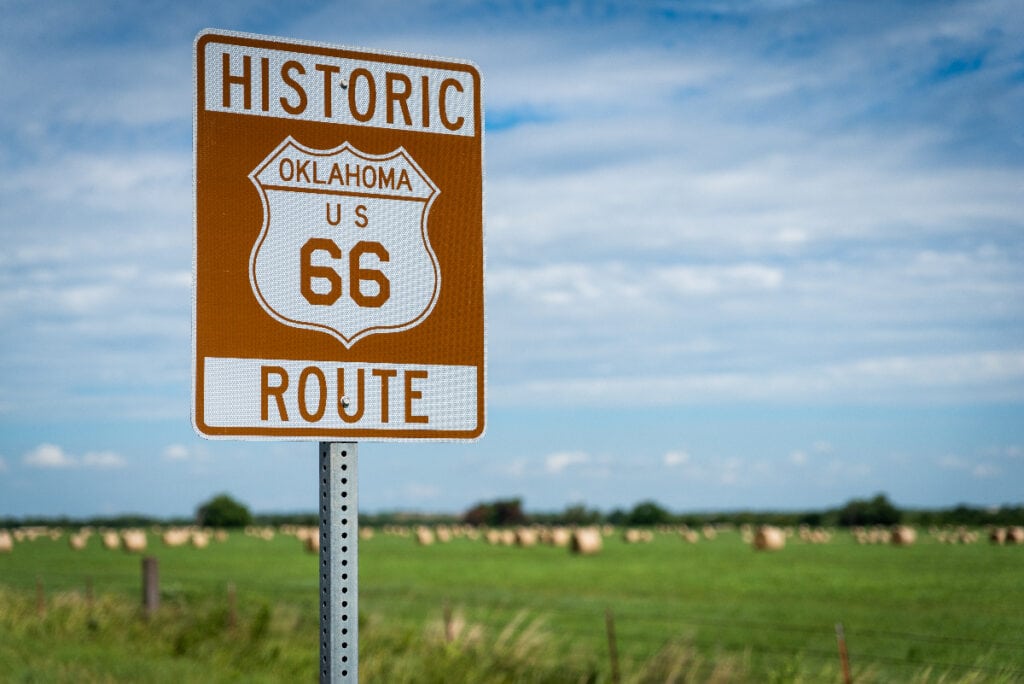 Plan a Visit to an Oklahoma Small Town Today
From awesome eateries to historic buildings and historic landmarks to outdoor activities and so much more, small towns in Oklahoma offer a wide range of fun activities for everyone.
No matter if you're a history buff, a foodie, an art enthusiast, or someone who loves exploring and learning about the lore of a quaint town, there's never been a better time to visit a small town in Oklahoma. You'll learn something new, have some of the best food you've ever had, and make plenty of memories that'll have you wanting to experience so much more of the great state of Oklahoma.
Get our free ebook guide to the best things to do in Norman and OKC. The best activities, restaurants, museums, events, views, and much more!
Click here to request the guide.